In mid-2012, Wikibon conducted a user survey that asked existing VMware shops if they were running a hypervisor in addition to vSphere. Fully 57% of respondents indicated that they already had a second hypervisor in use somewhere in the organization. That survey was conducted while Hyper-V 2012 was still in beta and, with growing interest in that platform, it's safe to assume that Hyper-V will continue to be the second place hypervisor for the foreseeable future, particularly since it was the secondary choice for 40% of our survey respondents.
We're most definitely seeing a rise in Hyper-V and in the use of multiple hypervisors and we're also seeing the rise of tools designed to manage multiple hypervisors as a single unit, but management doesn't have to be handled in that way. At first, it might seem counterintuitive to consider deploying an additional hypervisor, but many CIOs are doing it anyway, and with good reasons. As has long been the case with storage, some organizations are considering deploying various tiers of hypervisors to meet different kinds of workload needs. It's still recognized that vSphere is and will remain the gold standard for some time and for organizations that are deploying multiple hypervisor tiers, it's likely that vSphere will be the high performance tier. That is also the tier to which an organization will direct the most resources.
For the other tiers, organizations will adopt lower or no cost hypervisors such as Hyper-V or Xen, with Hyper-V being the more likely choice these days given the feature-rich nature of the latest version of the product. When deployed in tiers, organizations may even be able to avoid the need to buy the formal management tools that generally accompany Hyper-V and Xen. Or, at the very least, they may be able to spend a bit less money than they otherwise would on a vSphere environment. This opportunity has only come recently with the release of hypervisors that are all but feature identical to vSphere.
Such deployments could be production-level tiered hypervisors that serve different production needs or they could be production vs. test/development machines. Perhaps production runs vSphere while the test/dev environment operates using Hyper-V.
When considering Hyper-V, it's important to remember that it really is a free hypervisor with no strings attached. The base product includes many enterprise class workload features that don't require Virtual Machine Manager to operate. Without the need to buy System Center VMM, Hyper-V is really free.
The other key factor that is enabling organizations to deploy multiple hypervisors is the emergence of tools capable of managing multiple hypervisors. Perhaps the most notable product in this space comes from HotLink, the maker of the HotLink SuperVISOR. HotLink SuperVISOR plugs into vCenter and extends vCenter's capabilities to Microsoft Hyper-V, Citrix XenServer, Red Hat Enterprise Linux (KVM), CloudStack and Amazon EC2. In other words, right from within vCenter, administrators can fully manage these other platforms as if they were a part of the vSphere environment. From HotLink, here's a peek at just some of what the product brings to the hypervisor management paradigm:
Extend existing management tools cross-platform
Unify administration of on and off-premise
Clone, snapshot, migrate hybrid workloads
Leverage templates cross-platform
Apply automation across hybrid resources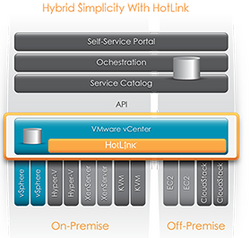 In other words, HotLink users are provided with a unified management platform that can be used to manage multiple tiers of hypervisors using a tool that vSphere administrators already use every day.
While HotLink certainly stands alone right now and has a massive head start in what they do, other companies do provide tools that begin to centralize management across platforms, but none are as complete at HotLink yet. There are tools such as Microsoft System Center and DynamicOps (acquired by VMware) that overlay their administrative functions atop existing management platforms, but they're often unwieldy and somewhat unpredictable in multihypervisor scenarios.
Action Item: For CIOs in the right environment, it may be possible to dramatically lower infrastructure costs by considering the deployment of multiple hypervisors. Take a look at your current management tools and staff and consider whether they can be extended to manage additional hypervisors. Consider also the size of your virtual environment. A multi-hypervisor environment probably won't make sense for small environments, but as sizes scales up, the opportunity will become more lucrative.
Footnotes: This video with Stu Miniman of Wikibon discusses the launch of HotLink's free offering that supports up to 3 hosts, 15 VMs and 1 non-VMware hypervisor.