This format has been retired but contains some useful information
A more current version can be found at Wikibon How-To note
This article is written for Wikibon authors and contributors who want to understand how to execute on a complete research agenda for a given topic. The article addresses topic selection, understanding the lifecycle model, where solution articles fit with examples of how to develop both solution and lifecycle articles within a research agenda.
Selecting a Wikibon Topic
Wikibon articles are ideally written about a topic of great importance to the Wikibon community. As a community standard, each article is comprised of the four major sections described in Writing a Wikibon Article Using the Standard Instructive Article Model and described below.
Lifecycle and Solution Articles
There are two types of Wikibon articles: 1) Solution articles and 2) Lifecycle articles. As a general rule, solution articles describe the capability whereas lifecycle articles describe how to do something related to that capability. There are many more lifecycle articles in Wikibon than solution articles because Wikibon's main focus is how to do it versus what it is.
Each lifecycle article is written to explicitly address a certain stage within the lifecycle model shown in Figure 1. Authors should create and contribute to articles with a clear understanding of the Figure 1 matrix and knowledge of which stage of the lifecycle the article is intended to address.
As seen in the matrix, both solution and lifecycle articles use the same basic structure, specifically:
What it is
How it works
What impact it has
How to do it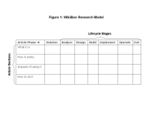 Once a topic is selected based on its perceived importance by the Wikibon community, this simple matrix allows contributors to easily develop a roadmap and research agenda for the topic and identify gaps that need to be filled. Importantly, a single article on the topic within the lifecycle may not adequately address the topic and/or the stage in the lifecycle. Several "child" articles could be spawned for the topic to be addressed completely.
Consider the topic of Tiered Storage. While an article could be written for each phase of the lifecycle, many related avenues could be spawned to provide a more complete research agenda. For example, an article about "Operating Tiered Storage" may require a supporting article such as "Backing up Tiered Storage" or "Recovering Tiered Storage," etc.
Practical Examples
Starting with solution articles which are the only "non-verb" articles specified in the matrix. The purpose of a solution article is to provide a logical anchor for the article lifecycle model that describes the solution. Applying the article sections to a solution article should proceed as follows (using a Tiered Storage example):
What is tiered storage?
How does tiered storage work?
What impacts does adopting tiered storage have? In this section, contributors should stress metrics and rules-of-thumb specific to the adoption of tiered storage. Notably, these metrics will naturally be consistent with those articulated in the "operate" stage of the lifecycle.
How to "do" tiered storage. Since the details of how to do tiered storage will be covered in complete detail across the entire lifecycle, this section should be used to summarize the stages of the lifecycle. For example:
How to implement tiered storage: The process starts by analyzing tiered storage needs. This is an assessment of the business and application requirements and how to assess the costs and benefits of tiered storage. The next step is to design a tiered storage infrastructure for a specific organization, etc. continue summary through the full lifecyle.
A lifecycle article, for example an article about "Designing tiered storage" should be constructed as follows:
What is a tiered storage design?
How does a tiered storage design work? In other words, how does the process of creating and applying a tiered storage design work?
What are the impacts of using a tiered storage design? (e.g. it increases the quality of the ultimate solution by X% and reduces rework by Y%).
How to develop and use a tiered storage design; a detailed, step by step description of how to "do" a design.
Following the lifecycle matrix to its logical conclusion will provide readers with a rich set of information about the topic, with the vast majority focused on how to get it done.