The basic purpose of this article is to allow business and IT staff to understand how to justify storage thin provisioning.
As a result, the reader will be able to understand how to go about developing a business case that quantifies the potential benefit of thin provisioning for their organization, the costs, and the return on investment expected. In addition, the overall risks to a successful implementation will be understood, and if necessary factored into the business case.
Thin provisioning business case
Thin provisioning provides storage to applications from a pool of storage on an as required basis. It requires the storage arrays to be virtualized. The storage administrator allocates storage to the application as usual but it is released only when the capacity is required. When utilization of that storage approaches a predetermined threshold, the array automatically expands the volume without involving of the storage administrator. The volume can be over allocated as usual, but now there is no stranded storage. Thin provisioning is on-demand storage that essentially eliminates allocated but unused storage or stranded storage. A fuller definition can be found at Thin provisioning.
Thin provisioning has the potential to reduce the costs of storage and/or storage management costs in many environments. There will be a trade-off between the savings in administration costs and storage costs, depending on the current emphasis on managing storage costs. Thin provisioning is very likely to have initial costs of software to manage the environment, will have implementation costs, and will possibly have write-down costs for hardware that will no longer be able to be used.
How to build a thin provisioning business case
When developing a business case for thin provisioning, it is important to establish who is sponsoring this investigation, and get agreement if possible that you will present the business case to him/her.
Line items of thin provisioning business case
A well established approach to justifying thin provisioning is a three step process:
lay out the costs of the current storage strategy over an agreed time period
lay out the costs and benefits of the proposed thin provisioning strategy over the same time period
Create a "delta" business case from the differences between the two cases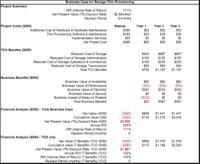 Figure 1 is an example of a business case with the potential line items included.
Project summary These lines are the key metrics that have been mandated by the organization, or agreed by the sponsor.
Project costs This section includes all the additional costs to implement thin provisioning. Included might be:-
Additional costs of hardware & hardware maintenance
Additional storage software and maintenance costs
Implementation costs (which may be subdivided into additional line items such as consultant services, internal staff costs, testing costs, training costs, communication costs from IT to users, etc.)
TCO Benefits This section includes the difference between the "as-is" costs of storage and storage administration and the proposed thin provisioning costs. In general this will be line items from the IT budget. Specific line items might include:
Reduced cost of storage (e.g., applications that do not require the level of storage currently provided, improved utilization of storage, etc)
Reduced cost of storage administration from improved tools to allocated storage
Reduced cost of storage operations & connectivity (e.g., reduced cost of ports, storage network switching, provisioning, back up, etc)
Reduced cost of storage transmission (this may be included if there are synchronous or asynchronous remote copy requirements)
Business Benefits This section includes the additional business benefits or business costs of thin provisioning. In general this will be line items from the business budget. Specific line items might include:
Business Value of Availability (this includes the business benefits from improved productivity from improved availability, as well as the business benefits from any improvement in disaster recovery (RTO & RPO))
Business Value of Performance (this includes the improved user productivity from better performance)
Business Value of Flexibility (this includes the improved user productivity from quicker implementation of applications and changes to applications)
Business Value of Security (this includes the expected decrease in loss from breaches of security)
Financial Analysis This section calculates the key financial metrics mandated by the organization or agreed by the sponsor. This section includes all the benefit line items, both IT and business. This is a full business case with the impacts on the business as a whole.
Financial analysis (TCO only) This section calculates the same financial metrics as above, but includes only the IT benefit line items. This business case is from the point of view of IT only.
Two additional items should be included in the business case:=
A list of all the assumptions and sources of data
A conclusion and recommendation from a financial perspective
Technology Dependencies for developing a thin provisioning business case
The only technology dependency for developing a thin provisioning business case is access to good spreadsheet software.
Thin provisioning business case skill dependencies
The key skills to develop a thin provisioning business case is a good understanding of thin provisioning, a knowledge of how storage is organized by application in the current set-up, and a good working knowledge of business case principles. In addition, knowledge of business cases standards within the organization is required.
Organizational dependencies for developing a thin provisioning business case
The starting point for developing the business case is to understand which budget(s) will be funding the thin provisioning initiative, and which functions will be part of the sign-off process. In addition, the developer of the business case should understand what the consequence of the business case will be to the budgets of all the stakeholders. For example, will a saving of half a person in IT be accepted, or are only reductions in staff headcount accepted? Will improvement in end-user productivity be accepted as savings by the business, or will only future head-count reductions signed off by the business be accepted?
The business case examples below are inclusive of all the line items that might be considered. On many occasions it will be necessary to negotiate what level of saving is put in the final business case. For example, an IT executive may want to include a conservative estimate of the benefits to IT to maximize his chances of achieving those benefits.
Key risk impacts of developing a thin provisioning business case
The business case shown in figure 1 is a likely case scenario. In order to present a complete financial analysis some sort of risk analysis should be done. The degree of sophistication of this analysis will depend to a large extent on the size of the project, and the standards of the organization. At a minimum it should include a doesn't work worst case scenario (e.g., fall back to current storage philosophy), a worst case scenario (increase the costs and decrease the benefits to a (say) 90% confidence level that they will be achieved), and a best case scenario (potential benefits is project is completely successful).
Achieving acceptance of the thin provisioning business case
The key to getting acceptance of a business case is to get agreement from the sponsors of the project to each line element. Often the business case will be developed to include all the line items, and then line items will be taken out or scaled back during discussions with the sponsor and other budget owners.