Assessing the administrative impact of storage virtualization and thin provisioning
Wikibon evaluated the effects of storage virtualization and thin provisioning on storage administration activities at a Midwest financial firm. The results were: 1) a dramatic shift away from the percentage of time spent performing certain administrative tasks to more planning and strategy activities; and 2) a reduced overall storage administrator workload.
CS4 is a financial industry leader migrating to an IT model that relies on a 'flat' or horizontal server approach, meaning it uses many smaller servers rather than smaller numbers of large servers. This proves challenging for the storage group as often CS4 is rolling in dozens of new servers each week. CS4's storage group struggled to continuously provide adequate resources for application users and turned to storage virtualization and thin provisioning from Hitachi to help solve the problem.
Wikibon assessed the storage administration activities before and after the implementation of a Hitachi USPV storage virtualization system to better understand the effects of these emerging technologies on a storage admin's time. This study specifically excludes storage operations (e.g. backup and other operational tasks) but includes the planning and process development for such tasks.
The Before
In total, CS4 had approximately 1PB of storage including 400TB of older EMC Symmetrix systems split over two data centers providing excellent availability and performance. Two SANs connected 600 Unix and Windows servers. For a specific suite of applications in test and develoment, including a trading application, CS4 was running three Symmetrix systems with capacities of 15, 25 and 30 TB's (raw) respectively with an average utilization of 46%, providing 32TB's of usable storage for the applications in total. Figure 1 shows a breakdown of the activities a storage admin performed that were dedicated to various tasks:
Note that while planning was the major activity, a number of other tasks consumed between 10-15% of an admin's time.
The Project
To accommodate growth, CS4 evaluated bringing in two new Symmetrix arrays at 40TB's each (raw). Because the development environment was changing so rapidly, CS4 estimated it could only achieve 50% utilization bringing its total usable storage for this set of applications to 72TB's. CS4 believed it would need to allocate an additional portion of an FTE's time to managing the storage for a total of ½ FTE (up from ¼ FTE previously). In an effort to improve utilization and avoid this added labor expense (estimated at $180,000 over three years), CS4 decided to investigate the use of Hitachi's USPV with storage virtualization and thin provisioning. What CS4 discovered in its pilot was encouraging. By virtualizing the storage internal to the USPV as well as the Symmetrix arrays attached external to the USP's, CS4 believed it would be able to forestall the acquisition of a second 40TB (raw) array. This was due to the expected improved utilization of both the USPV's internal storage and the external storage attached to the virtualization engine. Specifically, CS4 believed it would be able to increase the Symmetrix utilization from an average of 46% to 65%, at the same time experiencing 70% utilization on the USP's internal storage. This would bring the usable capacity for this set of applications to 74TB's.
The After
This is precisely what happened in the implementation. Namely, CS4 leveraged the storage virtualization capabilities of Hitachi's USP, along with thin provisioning to:
Increase utilization of existing Symmetrix arrays on the floor;
Meet application requirements with a single 40TB (raw) array (versus having to acquire a second 40TB arrays);
Avoid allocating another 1/4 of a person's time to the management of storage for critical development applications.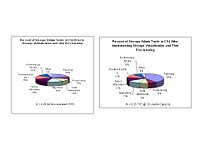 The other notable change was the way in which the storage admin spent time managing the new environment (see Figure 1). With storage virtualization and thin provisioning, the amount of time spent performing all manual activities declined with a much larger portion of time being spent on planning and strategy. CS4 was able to reduce the amount of time spent on activities such as provisioning, data movement, migrations, space allocation and troubleshooting, which were viewed by CS4 as less productive and valuable than strategy and planning activities. The following chart shows the percent of an admin's time spent performing various activities after the implementation of storage virtualization and thin provisioning:
Conclusions
CS4 turned to storage virtualization and thin provisioning in an effort to better manage rapid server growth. The byproduct of this move was reduced storage administration time overall and a shift in storage admin tasks from more provisioning/migration-related activities to more productive planning and strategy tasks. CS4 saw a dramatic increase in storage utilization as a result of this approach and was able to both avoid a costly array acquisition and the allocation of more headcount to storage management.
However CS4 conveyed that thin provisioning cannot be used in all applications and all situations. As well, processes need to be in place to ensure that physical capacity does not run out or applications will crash.
Legal: © Wikibon 2007. This document is copyright protected by Wikibon and does not fall under the GNU general license terms for Wikibon.org. Links to this article from external sources are allowed, however any other re-distribution of this content for commercial purposes is strictly prohibited. Please contact Wikibon for more information.
The cases cited herein are real however the name of the customer is fictitious. Wikibon case studies are developed independently and their development is not initiated for or funded by any single company. Wikibon reports actual customer experiences and results with no attempt to emphasize any one vendor's strengths or weaknesses. Read the full disclaimer.