Wikiview
The field replaceable disk drive unit is becoming a weak link in storage systems design. The laws of physics have brought a relentless increase in disk capacities – since the early 1990's drive capacities have increased 1000X - however drive speeds have been unable to keep pace – increasing 2-3X. In addition, the risk of data loss is escalating due to longer rebuild times and onerous disk drive failure rates which are many times higher than published specs. The result is becoming an untenable time to recover from failures and dramatically increased exposure to data loss.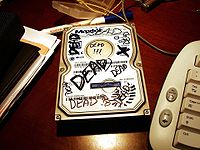 These were the conclusions of the June 29th Wikibon Peer Incite which featured to storage industry luminaries, Richie Lary and Steve Sicola of Xiotech Corporation.
The main findings of the research meeting are that the unit of failure should not be a disk drive, rather it should be a group of devices with embedded intelligence (i.e. a 'brick'); with low level recovery mechanisms built into the unit. This in essence becomes one large logical device that is able to protect data far more effectively and at much lower cost.
NOTE: While no one on the call disputed these findings, subsequent feedback from suppliers suggests the industry has implemented means other than the Xiotech brick for solving this problem-- although Wikibon has not yet received field data results to confirm these assertions.
Most users are either not aware of these issues or not concerned because support contracts cover device replacement. Increased maintenance costs due to drive failures are not top of mind for most IT executives. However the Wikibon community agreed that as Cloud-scale infrastructures become more prevalent the problem will manifest itself in the form of noticeably higher costs, lost IT productivity, and potentially increases in data loss.
Insidious Data Loss Exposure
Annual failure rates (AFR) for disk drives according to research conducted by Schroeder and Gibson at Carnegie Mellon, range from 2%-13%, significantly higher than vendor spec sheets imply (i.e. AFR's of less than 1%). In 2007, Google published similar data based on its experiences with disk drive failure rates (i.e. 2%-13% AFRs). The fact is the physics of cooling and vibration are having ripple effects on drive failures that warrant consideration. Notably, these findings primarily were focused on ATA-based devices which of course are increasingly becoming popular in most disk array designs. As well, certain vendors (e.g. EMC) have informed Wikibon that its AFRs on certain products are at industry spec of around 1%.
Nonetheless, this research leads us to believe that such field data should be alarming to users. While techniques like RAID are presumed to mask drive failures, as drive rebuild times increase due to ever larger capacities exposure becomes more prominent. Further, storage optimization techniques such as data deduplication and compression compound the problem by squeezing even more data into devices and increasing rebuild times due to factors such as rehydration (i.e. the overheads associated with most solutions to un-dedupe or uncompress when necessary).
Users should consider three main factors related to this trend:
Disruption to application performance during storage device rebuilds means real business costs.
A "when in doubt, throw it out" mentality toward disk drives increases maintenance costs. Importantly, 85% of disk drive failures are no trouble found (NTF); however software has flagged that device as problematic and in need of replacement.
According to Lary, the reliability of the RAID set is proportional to the square of the reliability of the drive; meaning AFRs in dramatic excess of published specs substantially increase the chance of data loss.
Consider the following example: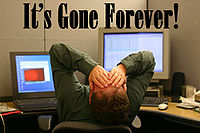 Assume the probability of a drive failure in a year is 1% (.01). The probability of a double drive failure then is .01 X .01 or .0001 (1 in 10,000)-- seemingly a very low number and perhaps low enough to neutralize fears of a double drive failure during a RAID 5 rebuild.
Based on independent studies from Carnegie Mellon and Google, the reality in the field is that AFRs are much higher and range up to 13%. Using an AFR of 5% increases the probability of a double drive failure by 25X (.05 x .05). So instead of a 1 in 10,000 chance of a double drive failure, users have a 25 in 10,000 chance of failure. If one uses the high end of the Carnegie Mellon range (13%), the data suggests a 169X increase in probability of failure relative to published specs (13% x 13%).
The point is that whatever figure is chosen, the threat is escalating and eventually will result in data loss. If the unit of replacement continues to be the disk drive, the situation will increasingly worsen because it takes longer to recover drives. This trend is a ticking time bomb (think credit default swaps).
Does SSD Solve the Problem?
Not completely. In some ways flash makes the problem worse because of the technology's intrinsic write reliability problems. This can be overcome with techniques like wear leveling but component failures are a random problem and so the probability of multiple failures is still high. On the plus side, the speed of recovery of SSD and flash is significantly faster so you can recover much quicker than with spinning disk. So in theory, a hybrid solution where flash or SSD is the recovery mechanism could help quite significantly. However Lary and Sicola believe that a hybrid brick approach is the best from the standpoint of overall system reliability.
The Lary_Sicola Answer
Lary and Sicola have led design teams created to solve this problem. Their premise is to change the replaceable unit to an enclosed group of devices that delivers an order-of-magnitude higher reliability. They call this innovation the Intelligent Storage Element (ISE). ISE is a brick-like unit that houses Datapacs holding ten 3.5" disk drives or twenty 2.5" disk drives, each that are offset in a manner to reduce vibration and heat (disk drive killers) and increase the reliability of storage systems. The problem Seagate gurus set out to solve relates to the fact that disk drives were never designed for vertical insertion into storage arrays, a technique used by many OEM's to pack more density into an array. This approach puts stress on drives, and failures become more common. Seagate of course was in a unique position to address this issue and minimize failure rates as well as address the significant problem of NTFs.
The team at Seagate re-examined the design of disk drives and made substantial firmware changes and also altered how drives were mounted in arrays. The process took the better half of the decade but resulted in more stable and reliable drives that could perform self-monitoring and autonomic healing. Seagate reportedly shed the asset because its customers viewed the initiative as an offering that competed directly with their systems. The new Xiotech was formed and the company offers the storage systems industry's only five-year warranty based on the Seagate technology.
Users should be reminded that improved device reliability does not eliminate the need for proper backup and recover procedures as the brick is still a single point of failure. As well, disk drives inside of bricks will continue to fail, although perhaps at lower rates than conventional SATA devices. As well, there are other ways to achieve the objective of minimizing the weak link of a single replaceable disk drive. One way is to design a logical function similar to Xiotech's across multiple drives in an array and not necessarily create a brick-like unit.
The Future of Storage Systems Designs
Wikibon member Josh Krischer suggested the following premise:
RAID 1/RAID 5 is obsolete,
RAID 6 will survive through the end of the decade,
Before the end of the decade we will see triple RAID or clustered RAID.
Lary and Sicola believe they have developed a form of clustered RAID where a group of devices is enclosed and the virtualization, control, recovery, and management of that cluster is done within the brick, and the group of devices (in this case ISE) becomes the replaceable unit. In theory the unit never fails, and in practice Xiotech is seeing a .1% failure rate over five years in the field—an order of magnitude better than today's disk drives. These visionaries put forth the idea that the cluster of devices is very simple and has an open set of api's using Web protocols (e.g. REST) that allows function to reside in the application (e.g. replication) and the array unit becomes a self-contained group of devices that essentially never fails.
Sicola and Lary see today's controller architecture as: 1) the big box and 2) the smaller modular dual array controller; the trend of course moving to the small box modular designs. The key issue with the small box is the independence of the small box controllers creates conflicts at the back end. The problem with big box approaches are they are big and expensive.
The answer according to Lary and Sicola is to put a high speed, low latency bus between the two controllers to act as a cluster to optimize performance at the back end. The future in their view is to get these controllers to cooperate and allow the application to control certain functions that today reside in disk array controllers (e.g. remote replication). By allowing the application to control function, the idea is to dramatically simplify the storage infrastructure and optimize performance and allow linear scaling for both capacity and performance.
Action Item: Action item: The dirty little secret of some storage systems suppliers is that annual failure rates are substantially higher than vendor claims. This fact combined with the physics of disk drive capacity and performance exposes users to data loss that could be increasing at a rapid pace. Users should ask vendors for AFR data, dig into the math behind the numbers, understand their exposures, and begin to architect storage solutions that will reliably meet the needs of emerging Internet-scale environments.
Footnotes: Full audio of the Peer Incite call