Wikibon has estimated storage array migration costs several times. Our latest estimate for 2014 is shown in Figure 1. The assumptions are shown in Table 1 in the Footnotes below.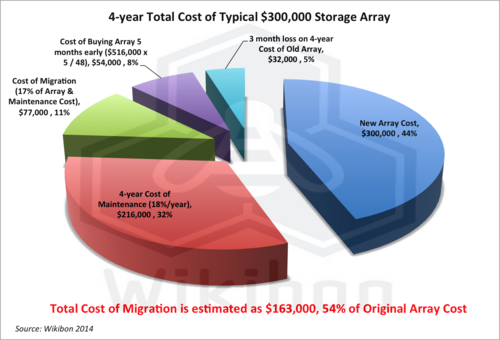 The three major components of migration are
The Cost of a Migration Project:

Wikibon has estimated the cost of a storage migration project to be approximately 17% of the total cost of a storage array, including initial cost and maintenance. The costs are mainly internal or external staff costs as well as specialized migration software costs.
One of the major complicating factors of storage migration is planning and testing for an outage before and/or after the migration is completed. As a result, migration cut-over is usually planned on an application-by-application basis, involving the application owners. Application down-time is increasingly being resisted, as user expectations of 24 x 7 application availability increase. The planning by application of migration is typically spread over a five month period. For simpler migrations it can be shorter, but often significantly longer.

The Cost of Buying the New Storage Array Early:

The new storage array has to be brought in about five months early to accommodate the planning and elapsed time for data migrations. Table 1 in the Footnotes below shows the assumptions.

The Cost of Keeping the Old Storage Array Longer

After the final migration, the old storage array has to be kept in place in case of problems requiring access to the original data, and for the application to be able to "fail-back" to the original storage if necessary. Table 1 in the Footnotes below shows the assumption of three months.
Figure 1 above shows that the estimated total cost of migration is about $163,000, or 54% of the original cost of the array.
In general, the cost and elapsed time of storage array migrations is increasing. The disks are becoming denser with now 4TB introduction, but the bandwidth from the disk is not changing. Federated storage architectures such as HP's Peer Motion and NetApps Clustered Data ONTAP can significantly ease migration between the arrays in a federation. Putting all the storage under a virtualizing software umbrella (SVC from IBM, VPLEX from EMC, VSP from Hitachi, etc.) eases migration but brings other overheads. The fundamental architectural problem is that each array has the storage management built-in to the architecture.
Action Item: Storage migration continues to be a major cost element for array-based storage in 2014. Senior IT executives should ensure the cost of migration is built-in to the business case for new storage arrays or consider architectures like Server SAN which can significantly reduce the elapsed time and cost of provisioning and retiring storage.
Footnotes: