Introduction
It has been several months since EMC announced V-Max, and we've had an opportunity to dig deeper into the technology and consider the customer implications of this important product.
What is V-Max?
While V-Max uses the same Enginuity software base and presents the same front end/back end functional design, architecturally it is quite different from previous Symmetrix models. First, the global cache is no longer a separate entity centrally located and separate from the directors. It is now distributed among the memories of the directors. These directors are now physically interconnected via a dual-star network, employing industry standard RapidIO technology for director-to-distributed global cache and director-to-director communications, which EMC dubbed the Virtual Matrix. Second, the underlying processing hardware is now Intel x86- instead of Power PC-based – a major change. And finally, the Intel multi-core processors on each director combine the functions of both front-end and back-end directors onto one processing complex, sharing hardware and enabling local access to formerly only global cache contents.
Figure 1 provides a high level overview of V-Max. Each V-Max can have up to eight "engines", each providing two directors. Each director comprises two Intel Xeon 5410 64-bit quad-core processors and their associated main memory and PCIe serial buses. EMC made each director's memory available to all the other directors by way of the Virtual Matrix for a maximum of 1 TByte of "global" memory.

The shift to an Intel platform involved a major software rework, particularly around multi-threading, to exploit Intel's multi-core technology. The advantage is this puts EMC on Intel price/performance curve, by Wikibon's estimate, cutting hardware costs by a whopping 50% or more.
Figure 2 provides a detailed block diagram of a director, showing how a custom ASIC (EMC marketing calls it the Virtual Matrix Interface and engineering calls it the System Interface Board) is used to bridge memory access onto the RapidIO-based Virtual Matrix. It also shows how each engine achieves its rated 10GByte/sec. RapidIO bandwidth (5GByte/sec per Director) as well as its 24GByte/sec. memory bandwidth per director yields a total of 192GByte/sec "global" memory bandwidth. EMC has employed custom ASICs in previous Symmetrix models, but this is the first time that a fully standard interconnect has been employed between directors and global memory and the first time that all custom hardware has been embodied in one device.

Figure 3 illustrates how directors communicate with each other over a star network by employing two 16-port RapidIO switches called the Matrix Interface Boards.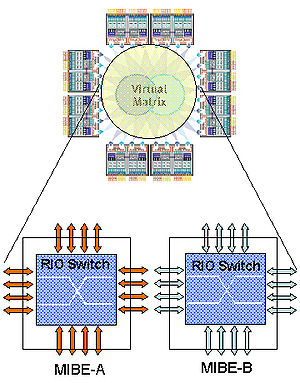 Unlike previous Symmetrix models, both messages and data travel over the RapidIO network(s). RapidIO's QOS features are used to prioritize traffic. Previous Symmetrix models used two separate networks or buses for data and messages. Also of interest is that EMC used RapidIO version 1.3 whereas version 2 is becoming available with double the signaling rate. EMC claims that the V-Max architecture can scale to 256 engines, but based on our analysis this would require disruptive upgrades and, probably, the use of switch-to-switch inter-system links (ISLs). EMC says separate V-Max systems can be federated under one management scheme, thereby avoiding much inter-system data traffic. EMC also says it could easily substitute another technology for the Virtual Matrix Fabric. Architecturally, this appears to be the case, but it could also be highly disruptive. EMC says however, it could easily incorporate backwards compatibility in future generation implementations that were able to communicate with older (or even different) interconnects.
Competitive Impact
The switch to Intel-based hardware and industry standard RapidIO technology allows EMC to compete more effectively with tier 1.5 players (e.g., XIV, 3PAR, Compellent, etc.) especially on a cost basis, although customers are complaining that EMC is not passing on this cost savings. Whether EMC will be able to successfully move V-Max down market remains to be seen, but at least the cost structure is there. In the high-end, V-Max is well positioned to compete on price, function, and performance.
Performance
V-Max provides twice the number of ports and three times the I/O bandwidth of the DMX-4. However, because of the requirement to mirror cache writes to the memory of a different director, these mirrored writes must traverse the RapidIO network and incur a latency comparable to previous generations. We estimate this latency results in this type of I/O being only 20%-30% faster than that of a DMX-4. Less latency yes, but it is certainly not three times faster. (Note: it is likely EMC will be able to tweak the Enginuity code to better exploit native Intel memory handling and improve this deficit in future releases of Enginuity.) The faster processing and increased system bandwidth have significantly improved I/O speed.
How does V-Max impact high end customer strategies?
Prior to V-Max, to lower costs and sustain Tier 1 performance, many customers were migrating Tier 2 storage off of Symmetrix and onto virtualized appliances such as IBM's SAN volume controller or just onto plain Tier 2 storage devices such as CLARiiON. Does V-Max obviate this strategy? Not yet. V-Max is certainly higher performing and can provide higher levels of consolidation with acceptable performance. Thus it is better able to support both Tier 1 and Tier 2 in the same system. Moreover, if the data center is cramped, V-Max can supposedly be extended tens of meters and around corners in a data center. But the single biggest promise of V-Max is Fully Automated Tiered Storage or FAST. Without FAST the economic benefits of tiered storage are much less attractive because the process is still manual. FAST-1 is due out this quarter (Q4 2009) and operates at the LUN level. FAST-2 is due out mid-2010 and operates at the sub-LUN level (768 Kbyte chunks to be precise). FAST data movement will be policy driven, and we can expect some integration between the IONIX platform and FAST-1. Tighter integration will come with future releases. However, FAST will not come for free, it will probably be sold on a capacity basis.
To maintain momentum and fulfill its promises, EMC must get FAST into the market soon. FAST-1 is nice, but FAST-2 is the customer keeper. It must also address the perpetual generational migration issue to eliminate forklift upgrades and fulfill the promise of Federated Storage.
More Futures
We expect the next version of V-Max to be announced next year and to include:

Faster RapidIO – 5Gb/sec. vs 2.5 today.
RapidIO ISLs to connect Federated V-Max systems.
Better exploitation of direct memory-to-memory transfer features available in the Intel chip set (key to cache write performance).
2 Terabyte SATA drives giving a potential total capacity of 4PB.
Faster Fibre Channel and FICON ports (8Gb/s vs 4Gb/s).
Faster back-end interconnect speeds to better exploit enterprise flash drives.
Doubling of main memory/global cache.
Possibly faster Intel processors.
Action Item: V-Max today is about lowering the cost basis of Symmetrix and setting up the infrastructure for EMC's Symmetrix future. The Intel port puts EMC on the Intel price/performance curve. The V-Max architecture allows exploitation of FAST, which, if done right, will support much more efficient data movement between tiers. Assuming FAST works well, this makes Symmetrix a much more economically attractive alternative for customers relative to so-called 1.5 systems. Nonetheless, unless you're out of capacity or there is a deal in line with the cost reduction, there's no rush to move to V-Max today without FAST.
Footnotes: