Oracle Storage Strategy within the "Red Stack"
In early December 2014, Oracle introduced the ZS4 NAS storage appliance (array), a significant upgrade from the ZS3. It has increased read/write performance 50 percent, increased bandwidth 75 percent, and increased integration with the Oracle database stack and services, the "Red Stack".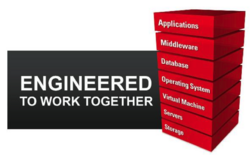 In support of the "Red Stack", Oracle is targeting storage used to run Oracle databases as the "low-hanging fruit" to both increase storage revenues and enhance the convergence with Oracle Database products. EMC and NetApp are the primary vendors of storage used to support Oracle databases. EMC leads in block-orientated storage for larger Oracle databases with VMAX, and in de-duplication appliances with Data Domain. NetApp has a significant share in NAS storage for support of database services (i.e, backup, snapshots, etc.) as well as virtual Oracle databases deployed on NFS.
Oracle has two main standalone storage products, the block-orientated FS1 announced in September 2014, and the NAS-oriented ZS4-4 announced December 2014. In addition, Oracle offers a series of engineered systems with inbuilt storage, including Exadata, Exalogic, SuperCluster and ODA.
Oracle is linking its storage to the Oracle Databases group through the Oracle Intelligent Storage Protocol (OISP), and through high performance design to meet the usually aggressive performance, availability (RPO & RTO) and recoverability required by applications using the Oracle DB. The key benefit of this convergence is the reduction of the number of separate components and separate managed entities (SMEs) that make up the stack supporting an application. The fewer the number of SMEs, the lower the cost of deployment and maintenance, and the quicker the time-to-value for new applications and their updates.
ZS4 vs ZS3 Storage Appliance Performance Comparison
Table 1 below summarizes the important technical comparisons between the ZS4-4 and the previous generation ZS3-4. The use of higher performance Intel processors and the upgrade of the OS to support higher levels of core utilization and parallelism are major contributors to the improved performance of the system. In addition, Oracle has deployed large amounts of DRAM in the appliances, higher than any other dual-controller storage system. Oracle's claim of 50% additional IO and bandwidth performance is reasonable, based on Wikibon performance analysis. Wikibon will confirm the performance with end-users within the Wikibon community when the product is shipped.

The strategic fit for the ZS4-4 is similar to the ZS3, which has found strong acceptance in supporting roles for Oracle databases. The high bandwidth will allow even faster backup speeds. Where speed to complete backups and get the data offsite are very important to meet RPO requirements, the ZS4-4 is likely to be faster than de-duplication appliances. The ZS4-4 is also suited to bulk movement of data to data warehouses.
The use of the ZS4-4 for NFS virtualized test/dev Oracle environments and NFS virtualized environments in general are also an area of strategic fit, especially as Oracle 12c pluggable databases are increasingly deployed for rapid spin-up/tear-down in development environments. The integration of 12c and ZS4 DTrace storage analytics is an important enhancement for these use cases.
ZS4 Integration with "Red Stack"
Hybrid Columnar Compression (HCC)

HCC allows column-based access and compression methods in conjunction with operational row-based methods, with some level of optimization based on use patterns. HCC is difficult to implement with traditional spinning disks because of the low access density and subsequent interference between operational row-based access and analytical column-based access. The advent of large-scale flash solutions supporting HCC such as the Oracle FS1 make this feature potentially more important for enabling Inline Analytics.

Oracle Intelligent Storage Protocol (OISP)

This is a dedicated communication protocol between Oracle 12c and ZS4 that enables what Oracle says is a 65% reduction in manual tuning and administration.
Oracle 12c allows many pluggable databases to be spun up and thin provisioned or cloned programmatically and instantaneously within a single container database, while sharing its memory and background processes. This results in a very significant reduction in database system overhead. By consolidating existing databases as pluggable databases, all the databases can be managed as one (e.g., tasks such as upgrades, backup and disaster recovery can be performed at the container database level). OISP allows the Oracle DB resource manager to interface with ZF4 storage (e.g., DTrace-based storage analytics) to show performance by container database or pluggable database. Without OISP, storage will only see the overall container database, limiting the value of pluggable databases.
Conclusions
Oracle's clear strategy is to integrate storage with the database and application layers of the "Red Stack". If Oracle continues down this path, Wikibon expects that competitors will have increasing difficulty competing with this integration. At the same time, execution on storage and storage services is imperative for Oracle to succeed with this strategy. The strategic fit as discussed above is Oracle support (backup and data warehouse), NFS Oracle virtual and in-Oracle test/dev. In addition, the ZS4-4 is a good fit for high-performance NFS file management environments.
Action Item: Wikibon recommends that the Oracle ZS4-4 be included in RFPs for Oracle support storage, for Oracle NFS test-dev environments, for high-performance NFS file management environments and NFS virtual Oracle environments.
Footnotes: