Reprinted with permission © 2009 TreeTop Technologies
With all the buzz that President-elect Barack Obama has generated with various nominations like Hillary Clinton for Secretary of State, and his history-making election itself, one wouldn't think he'd be making an IT-specific splash as well. But he is, with his decision to create the first-ever national Chief Technology Officer.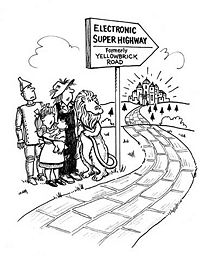 According to Obama's transition team, America's first Cabinet-level CTO will "ensure that our government and all its agencies have the right infrastructure, policies and services for the 21st century. The CTO will ensure the safety of our networks and will lead an inter-agency effort, working with chief technology and chief information officers of each of the federal agencies, to ensure that they use best-in-class technologies and share best practices."
"I think that Barack Obama did a lot to put IT in the spotlight during his campaign, if only indirectly through his very successful use of the Internet, text messaging and more," says TreeTop Technologies' Senior Staffing Consultant, Alan Stevenson. "This new post, while it will be challenging to define, is probably a critical addition in a society where information and high technology play such increasingly important roles in keeping everything running right, from our daily communications to the ability of companies to make positive impacts on their bottom line."
There will be major challenges. As a recent Forbes magazine article notes, "Particularly since the post will be so new, America's first CTO will have to start by creating a staff and support structure - never an easy task in Washington, where political turf wars between existing agencies are legend."
As a Washington, D.C.-based communications lawyer noted in a BusinessWeek article about the national CTO position, Obama seems to see greater broadband penetration, for example, as an enormous economic engine, like the railroads were a century ago, making the new CTO position a critical one in any economic recovery plan.
If it works, that would be good news, as a successful economic recovery plan could mean good things for getting the IT industry in a growth mode that is not only strong but also sustainable, unlike the days before the dot-com bust.
Action Item:
Footnotes: From "View from the TreeTop" Volume 3 Issue 1 January 2009