Wikibon has been tracking object storage (also known as unstructured content storage) since 2007 and believes that it supports new architectures that can create more intuitive and efficient solutions than traditional storage.
At EMC World, Wikibon's Dave Vellante and David Floyer had a discussion with Rolf Jordi, Sr Storage Architect at Swisscom about how his company (a Swiss-based telco and service provider) is using object storage (in particular, EMC's Atmos product) to enable the creation of cost- and power-efficient solutions for its end-users.
Jordi says traditional Tier 1 and 2 storage solutions are cost-prohibitive when creating services such as storing pictures or backup for end-users, as multiple copies have to be made. Swisscom went through an extensive RFP process to find a solution that saved on cost, power, and rack space (density). One of the benefits of object storage is that objects include their metadata, which allows policies to be applied and adjusted as needed. Jordi states that while object storage requires learning a new way to do things and is not as "easy as file", the construct allows a rethinking of the whole process (e.g., rethinking how to protect data by setting the protection level, or ensuring that certain classes of objects are deleted after 30 days).
Swisscom requested a feature from the EMC Atmos group that is now known as GeoParity. For Swisscom, GeoParity allows the protection of data to be spread across four sites with far less overhead. As shown in the graphic below, the 9/12 erasure coding across 4 sites allows for less data to be stored at each site (a 65% savings for four-site configuration), while increasing the level of protection. While there can be a performance impact based on the distance between locations, Swisscom's configuration (2 sites within 10km and the other 2 sites within 100km) used its own network (a benefit of being a telecom) and ended up using the feature from day 1 rather than rolling it out in an incremental fashion.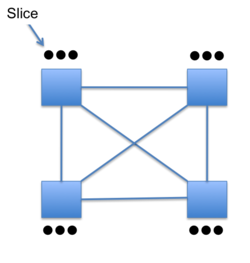 GeoParity saves Swisscom power and cost and will allow new services such as creating a "cloud drive" to support video and music. Swisscom has conducted disaster testing by bringing down a site and has confirmed that the GeoParity function works as designed. As discussed on a Wikibon Peer Incite in November 2010, object replication options are providing alternatives to traditional RAID architectures. Jordi's advice to peers is security should be top of mind consideration. Therefore he recommends separating traffic between internal and external networks (encryption is not included in the Atmos implementation of erasure encoding). He also strongly recommends that thorough planning is done so that at the end of the day you can look back like he does and say that if he had to build it again that he would do it the same way.
Action Item: It is forecasted that 90% of data growth will come from unstructured data. While traditional architectures will continue to reign for Tier 1 environments, object-based solutions should be strongly considered for unstructured environments such as cloud services. Staff must be prepared to spend time becoming familiar with new architectures and setting/adjusting policies to take advantage of metadata
Footnotes: Also see Wikibon's interview with Mike Feinberg GM & SVP of EMC's Cloud Infrastructure Group from EMC World 2011