Update: November 20, 2009. The key graphic in this article was updated to include a vision of virtualization and cloud computing. This was presented to Wikibon by NetApp management and is reflected below with the new graphic.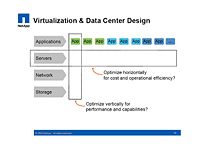 Dave Hitz, NetApp's articulate co-founder, former VP of Engineering turned quasi-marketing guy and strategic change agent put up this slide at the analyst meeting in NYC in early 2008. Tom Georgens has updated the slide (shown below) to include a vision of virtualization and the cloud. The slide depicts a vertical slice of a traditional approach to architecting infrastructure where resources (servers, networks, storage, etc) are stovepiped and optimized for applications (largely by application heads). This is a common scene in enterprises where companies mix, match, and manage a sea of heterogeneous storage assets designed to optimize business applications.
There's actually nothing wrong with that picture until you consider that in the Fortune 1000, IT spend as a percent of revenues has dropped from 3.9% in 2000 to under 3.0% today. It's simply too expensive to maintain such a 'one off' approach for all applications. While this vector will continue for specialized applications with the most demanding performance requirements (e.g. mainframe and transaction-oriented apps), increasingly customers are looking to put in place more efficient (horizontal) platforms that can flexibly support a wider variety of applications. NetApp envisions virtualized pools that are process- and service-centric and optimized across applications for cost effectiveness. This is depicted in the Georgens slide below. The implication is this trend will not only impact server infrastructure but storage as well as other layers; and extend to the cloud.
What is authentic about NetApp's vision is that instead of laying out a scenario where ALL applications standardize on NetApp infrastructure, this view acknowledges that there will be 'zones' of infrastructure established to do the job most effectively. In essence, it underscores the fact that there's an opportunity to clean up big chunks of inefficiency in the data center but certain applications will continue to require best-of-breed optimization for performance, recovery, security, and business resilience and will be tuned vertically within the infrastructure stack. These apps won't be containerized through virtualization and they definitely won't end up in the cloud.
NetApp's bet is that more data will be candidates for NetApp storage than its competitors.
Here's the updated Georgen's slide: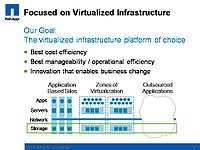 The implications of this approach for storage architects and admins is a more services-oriented view where storage provides re-usable services across a variety of applications and is optimized for efficiency by reducing suppliers, standardizing on service offerings and, while limiting the choice of application heads, dramatically simplifies storage procurement, installation, provisioning, migration, and retirement. This means certain tasks (e.g. provisioning) can be either automated or transitioned to server or application people within the organization while the storage admin plays more of a service provider role.
The challenge with this scenario is that when IT standardizes on a limited set of menu-based services it limits choice. Those with power in the organization (e.g. application and business heads) will kick, scream, and fight to protect their tier 1 golden geese and concierge-class service levels. The opportunity is to target major pockets of inefficiency and virtualize with VMWare, for example, or other approaches. A commitment to initiate storage and server virtualization in tandem will by its very nature trump these organizational tensions by 'forcing' standardized approaches to service delivery. In an environment where efficiency is the mantra, this strategy could gain momentum.
Action Item: Organizations should update planning assumptions to include a services-oriented approach and commit to pursuing storage and server virtualization in tandem. NetApp's horizontal infrastructure vision can lead to substantial cost savings and efficiencies that every CIO and CFO should consider, or, at least assess the tradeoffs relative to a vertical (purpose built) approach, which for many mainstream applications will prove to be overkill.
Footnotes: