With strong support from Richard Evans and Nick Allen.
In a recent posting, Wikibon highlighted great research which showed that lasers could write at very high speed to magnetic disks. Wikibon is interested to know:
How much could the reading rate from magnetic media be increased?
What would be the time required to bring this innovation to market?
Are all the pieces there (e.g., from MO devices, DVD, etc.), or are inventions/developments required?
Here is an answer from Richard Evans, one of the authors of the original researcher paper, on 2/15/2012.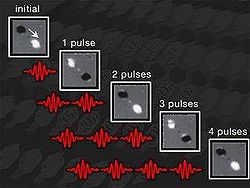 Thanks for your mail and interest in the research. Regarding the reading of data, it depends on the recording medium. For rotating platters, the read rate depend on how closely packed the bits are. Current devices have a bit width in the 20 -30 nm range, and this could feasibly be reduced to 10 nm, and so roughly 3x improvement in sequential read speed. This is a fundamental limitation of rotational media, so to realise very high switching rates one would have to move to some kind of solid state magnetic storage. Regarding reading the data, this might be feasible using spin polarised current, where the magnetic state affects the resistance of the device, and so in that case read rates could exceed that of SSD's - but of course the cost of solid state devices is also much higher.
However, this idea could indeed be implemented in conventional hard drives to aid capacity improvements, as there are currently many challenges in achieving that, possibly within the 5-10 year timeframe. For the very high switching speeds, there are many more challenges to be overcome before that becomes a reality: faster electronics, miniaturised ultrafast lasers, finer process technologies. I would hazard a guess in the 15-20 years timeframe, should all the issues be solvable. In fact, your reference to MO disks is interesting - in a way this research is a natural evolution of that technology, but with a completely unexpected outcome.
The conclusion seems to be that if scientists can get lasers flashing in 5 femtoseconds and complete a laser write cylcle in 5 picoseconds, then they are employing circuits that operate with terrahertz clocks. Until miniaturization of those components happens, that is going to be too expensive and too large for HDD applications.
However, one could slow things down a lot and still achieve higher areal densities. Indeed, the disk could rotate at say 100rpm (DVDs rotate at 630-1530 rpm).
Action Item: It would seem that mostly sequential (like movies) and deep archive are the best future applications for this technology. This does not appear to be a silver bullet for disk storage, or be a prospect for halting the strong move to flash technology for active data.
Footnotes: