Introduction
The world of the Virtual Desktop Infrastructure (VDI) has been an interesting one over the years and it's certainly followed the general hype cycle that often accompanies potentially disruptive new technologies. With VDI, the "trough of disillusionment" hit very quickly as CIOs discovered – sometimes the hard way – a complex stack of parts where the lessons learned with regard to storage I/O patterns in server virtualization could not be transferred to desktop virtualization. VDI environments have their very own – and very intense – I/O patterns that can make storage planning a challenge and storage acquisition an expensive proposition.
VDI storage challenges
Here are just two of the challenges that face VDI implementations:
Managing peak performance without breaking the bank. VDI environments, unlike their server counterparts, often experience massive I/O storms at very predictable times throughout the workday. These peak loads generally hit when users arrive in the morning and start up their computers, when they log in, and when everyone logs off. Such I/O demands can result in users waiting for unacceptably long periods of time for operations to take place while storage churns away.
Ensuring that there is sufficient capacity to support hundreds or thousands of desktops. Even though individual desktop computers may not require massive amounts of disk space, the need for disk space increases as hundreds and thousands of desktops are pushed into the VDI environment. Suddenly, rather than needing 35 GB of disk space on a SATA drive in a single PC, the organization discovers that it needs 35,000 GB of disk space for 1,000 centralized virtual desktops.
Hybrid to the rescue!
Because of these issues, storage has been the prime culprit in many a failed VDI implementation as organizations attempt to extend their legacy storage solutions to support VDI. In many cases, this tactic simply creates more problems than it solves.
But, there is a solution. In recent years, a market niche has formed in the storage space and this niche seems to be widening into an all-out gap as these players grow and become more accepted. The primary players in this space – Nimble, Tegile, and Tintri – have created solutions that are perfect solutions for the VDI masses.
Performance… check
Whereas many storage solutions implement flash disks as a storage tier, these hybrid vendors instead leverage the power of flash to accelerate the activities taking place on the entire array. Hybrid storage players sell arrays that combine these solid state caching disks and traditional rotating hard disks and use their magic to supercharge the hard drives. By doing so, hybrid storage vendors can provide customers with storage solutions that boast the capacity advantages of traditional storage solutions, but with I/O performance levels that are often orders of magnitude greater than what would be possible with a similar number of traditional hard disks by themselves.
Capacity… check
Further, all three players provide powerful deduplication technology as a part of their product families. In general, deduplication on these devices doesn't carry any perceived performance penalty, but can have a significant impact on overall storage capacity. In VDI workloads, where there could be thousands of identical desktop images, deduplication can carry with it massive benefits, enabling organizations to house many more virtual machines on their storage arrays than would otherwise be possible.
Case in point
Of course, seeing is believing. And even with the right storage, VDI can be a challenge. That's why many vendors have partnered with others to build fully tested reference architectures that can be replicated by customers. All a customer has to do is follow the published recipe in order to achieve similar results. Of course, this assumes that the customer has similar usage patterns as were performed in the tests, but these kinds of documents tend to be pretty real world.
A brand new reference architecture was just released, so I'll describe it here.
Recently, Tegile Systems, one of the leading hybrid storage companies out there, collaborated with Cisco and VMware to create their own VDI reference architecture leveraging their Zebi line of storage arrays. As mentioned previously, Tegile's arrays are hybrid in nature and include high performance inline deduplication, two high needs in the world of VDI.
Cisco, VMware, and Tegile partnered to create a 1,000 seat VDI reference architecture, which would meet the needs for many midmarket and SMB organizations as well as many small enterprises. The impressive part of this story is that the reference architecture is built on Tegile's lowest cost array and, even with 1,000 desktops running full speed, there are still IOPS to spare.
Tegile's architecture includes: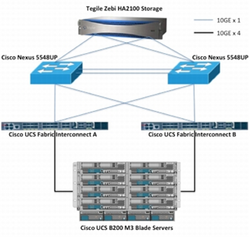 8 x Cisco UCS® B-Series Blade Servers. A tried and true VDI server platform that carries with it ease of administration.
Cisco Nexus® Switching 5500 Series platform. High performance switching solution to ensure constant communication and low latency.
Tegile Zebi HA2100 storage array. Engineers saw IOPS peak at around the 20,000 IOPS mark, which is well below the Tegile Zebi HA2100's 30,000 IOPS capacity.
VMware View 5.1. The latest version of VMware's VDI solution.
The power of hybrid
In testing of the solution, there was a 90% cache hit rate. Since the Zebi array uses solid state disk for cache, this means that access was consistently fast, demonstrating the power of a hybrid system. In addition, because this solution is running on hybrid, those 1,000 desktops would enjoy 22 TB of raw capacity before deduplication. This would be more than enough capacity for 1,000 desktops, all from a single hybrid array.
Action Item: CIOs looking at VDI solutions should make sure that hybrid is on the evaluation short list due to the inherent cost savings, performance advantages, and capacity capabilities. Further, consider reviewing VDI reference architectures to ensure that the solution being deployed can meet business needs. In addition to the Tegile reference architecture mentioned in this article, Nimble has published its VDI reference architecture here and Tintri's cam be found here.
Footnotes: VDI is seeing surprisingly high growth across many flash solutions. Also see Wikibon's Is VDI the Killer App for Converged Infrastructure.