Enterprise data centers will continue to pay a premium for high transaction performance and high availability storage systems; the challenges of high-performance storage systems to help applications process tier 1 data are still with us, and need very sophisticated software solutions. However, the relative growth of tier 2, 3 & 4 data is much higher. Very high density and lower cost solutions built from standard components are being offered by a number of vendors. As examples, EMC have intimated that Hulk will deliver about 40TB/ft2, the SA29550 from DataDirect delivers 80.7TB/ft2, and a full of rack of 10 Nexsan SataBeasts provides 93TB/ft2.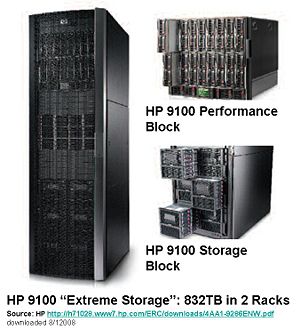 HP has introduced the HP StorageWorks 9100 (marketed as "Extreme Storage) which comes in the middle of the pack at about 54TB/ft2. Like EMC's Hulk, it is based on volume Intel server components. The HP 9100 has up to 16 standard Linux blades in a performance block and up to 10 82TB storage blocks as shown in Figure 1. HP is betting on delivering the latest blade technologies quickly to market, rather that using any specific storage acceleration hardware (as for example DataDirect has). Like all of the above examples, the HP 9100 has advanced packaging of high density drives (with its storage block) with the ability for customers to access and replace a single drive without interrupting service (a prerequisite for Web 2.0 providers).
There some important differences in how the HP 9100 addresses this market. The most important capability is that each of the Linux blades can directly address all the drives. This means that applications can run directly on one or more of the blades, and not have to request I/O services from another blade. This capability is built on the NAS PolyServe technology that HP acquired in 2007; this strategic acquisition is paying of well by accelerating the time to market for a robust storage platform. The main drawbacks of the HP 9100 offering are: 1) Because it is based on PolyServe technology it is constrained to environments that can tolerate a file-based approach only; and 2) Intelligent MAID-like features are not included to spindown drives that are inactive to save on power and cooling-- a requirement for such high density devices.
On balance, HP's approach to mega-capacity storage systems is sound and emphasizes time-to-market with leading edge off-the-shelf components. HP's strategy is to avoid more expensive purpose-built designs and compete in the mainstream with volume. This is sensible for a company with HP's vast distribution capability, however users with the very highest performance requirements should carefully consider alternatives as well.
Action Item: The race is on in the market for ultra high-density storage solutions with mid-2008 price points of about $2/GB. The HP 9100 offering further legitimizes this space as large players like HP and EMC are clearly endorsing alternative forms of low cost high density storage in the enterprise. CTOs should be actively looking for opportunities to evaluate and introduce this type of technology into their shops to support tier 3/4 data storage.
Footnotes: