Reprinted with permission © 2008 TreeTop Technologies
As the professional networking site LinkedIn closed in on its first anniversary in early 2004, more than 160,000 of its nearly 300,000 users were hiring managers—many of whom specifically indicated an interest in hearing from job candidates who were referred to them by their trusted colleagues on LinkedIn. With more than 20 million members in 150 countries now, that number is going to be far higher than it was four years ago.
So, how can you leverage this powerful networking tool in your career development? First, start adding connections so that you increase your visibility. According to LinkedIn, people with more than 20 connections are 34 times more likely to be approached with a job opportunity than are people who have fewer than five connections. "It makes sense, as people prefer to hire or work with people who are trusted by people they trust," says Al Stevenson, Staffing Consultant for TreeTop Technologies. "But at the same time, make sure you add quality connections and people who actually are meaningful contacts—quality still trumps quantity in the long run."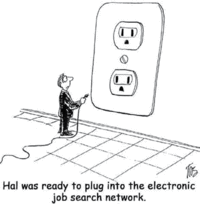 In your LinkedIn profile, don't make the mistake of listing only the company or organization that currently employs you. By doing so, you may severely limit your ability to connect with additional people. Instead, treat your profile like a concise professional biography, listing past companies, education, affiliations and activities. Do be careful not to include information that is too personal, sensitive or might be misconstrued.
You also might want to consider putting a link to your LinkedIn profile as part of your e-mail signature, as this provides a convenient way for people to see all of your credentials. This can be useful when you are actively job searching. Even when you aren't on the job prowl, though, someone you are communicating with by e-mail might see something in your profile that would spur them to pass along your name to a recruiter or hiring manager. You just never know...
Action Item:
Footnotes: From "View from the TreeTop" Volume 2 Issue 7 July 2008