Reprinted with permission © 2009 TreeTop Technologies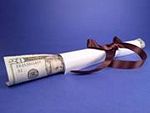 Once upon a time, IT certifications were not only all the rage, they were sometimes a ticket to ride. They were a way to add value to your career track and reliably boost your salary, and some people piled on certifications the way that people in remote parts of Canada pile on layers of clothing in deep winter.
The luster isn't completely gone from IT certifications, nor from other certifications that might apply to folks in IT, such as the PMP certification for project managers. But they definitely don't shine as brightly now. Many companies want to see example of success in potential hires and not simply a trail of letters after their names.
Management consulting firm Foote Partners, for example, has been tracking the value of IT certifications for years, and the firm noted in research released in mid-2008 that the average pay for 164 IT certifications posted their seventh straight quarterly decline in the beginning of 2008. Foote Partners argues that this shift away from certifications corresponds to a shift away from purely technical roles in the IT department. Security-related certifications, however, have continued to play a strong role, and project management, networking and database certifications also have held up better than most other types.
As founder David Foote noted when the report went out, "These days, our research has been heading towards the conclusion that it's about execution; the hiring focus is less about pure technology and more about technology instinct - the ability to get stuff done and develop solutions that can be used down the road."
"When a job is firmly focused on a particular technology, a certification relevant to that technology may very well matter as companies sift through candidates and weed as many as possible out early on," says TreeTop Technologies' Staffing Consultant, Michael Knauth. So, you may want to have that CompTIA or Microsoft Certified Professional credential, for example. "But in general, having something like a PMP on the end of your name is nice, but not a deal-maker or deal-breaker necessarily. What a company wants more than a PMP is a track record that you have successfully executed projects on time, on target and within budget."
One of the other things that has tarnished the value of certifications is the proliferation of readily available applications and resources that help people pass certification exams. As such, personnel departments, hiring managers and recruiting firms should be prepared to test the skills of job candidates in some way instead of relying on certifications, and job candidates should be prepared to back up their certifications with demonstrable knowledge and examples of successes.
Action Item:
Footnotes: From "View from the TreeTop" Volume 3 Issue 1 January 2009