The Exalogic single rack appliance is an impressive piece of iron, weighing in at 2,400 pounds and requiring 15 kWatts of power to keep it going. Brad Cameron, senior development director at Oracle, gave Wikibon a tour of Exalogic under a giant Ironman poster.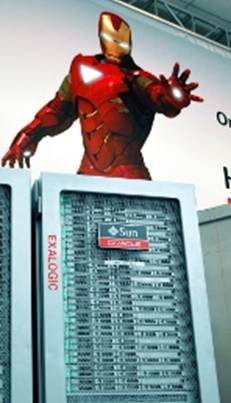 It includes:
Thirty (30) x86 64-bit six-core Intel Xeon processors (total 360 cores),

Each processor has 2 x 32GB SSDs to hold the operating system and swap space for diagnostics (1.9TB TB SSD)

2.8TB DRAM.
Storage subsystem with 20 2.5 inch form factor 7.2K SAS drives, giving a total of 40TB.

The data is striped and mirrored across the 20 disk drives, giving about 17 TB of usable storage.

Two (2) storage controllers (normally configured as active/passive although active/active is possible) with 2 x 512GB read-only SLC flash in each controller acting as a memory cache extension. There is also a total 72GB of flash memory acting as a fast-write cache directly associated with the drive bay.
Four (4) InfiniBand gateway switches of 40Gb/second low latency connecting the servers and the storage and providing a transport mechanism for connecting up to 32 10Gb Ethernet Ports. These ports connect the Exalogic to the data center.

The 10GB Ethernet Ports connect to a virtual NIC in each server via Ethernet over an InfiniBand transport.

One (1)InfiniBand switch for interconnecting additional Exalogic/Exadata machines (paired with its mate in the infiniband rack).
One (1) 1Gb CISCO switch providing a fabric for management data between servers and storage controllers.
The software stack includes:
Hypervisor (Oracle VM),
Operating system - Sun Solaris 11 or Oracle Linux 5.5 (Red Hat with extensions),
Enterprise Manager (providing Storage Grid control and Operations Support),
Support for the complete Oracle security architecture,
Phone-home.
The Exalogic machine has the very best and latest in storage and server technology linked together with a blazing fast Infiniband technology. The amount of storage is obviously limited, and it is designed to be connected to external storage such as Exadata running Oracle 11G. Connection to the external world is via the 10Gb Ethernet ports or via InfiniBand (for example by connecting to a Virtual I/O appliance that could encapsulate FC).
Oracle claims that the Web Logic software and Fusion middleware have been designed to take advantage of the Exalogic box, but these are not included in the stack maintenance or stack costs. If Oracle (or any other database) were run on the Exalogic, it would incur the normal software licenses.
The support philosophy that Larry Ellison laid out was perhaps the most revolutionary. All Exagrids would be running exactly the same software stack (either Oracle Linux or Sun Solaris), delivered as a single file. Updates would be automatic.
The cost of a single Exalogic rack is just north of $1M list – the cost for each server is about $3,350, including access to a shared storage of 17TB over blazing fast InfiniBand interconnect. Potentially the cost of maintaining the rack and the basic software stack is very low indeed.
Oracle has introduced a another high-end rack appliance with the very best in Sun hardware and an imaginative support strategy. However, Wikibon members at Oracle World have pointed out that maintenance upgrades of the basic rack would have to be upgraded in line with the qualification of applications running on the Exalogic. Clearly if the software is the Oracle database, middleware and applications, an extension of support to a single stack could provide Oracle and IT with enormous opportunities for support reductions. Time will tell if this vision can be fully realized.
Action Item: Oracle has introduced a high-end but cost effective Exalogic to its stable of appliances. Oracle has taken a very important first step on the road to providing fully integrated stacks for applications. This approach deserves close analysis by large organizations, who should push for full extension to the middleware and database components of the stack that support key applications.
Footnotes: