EMC Flash Needs & Desires
EMC has invited stealth startup XtremIO as its partner at the Flash-only Array Ball. This move was predicted following Pat Gelsinger's remarks at the EMC Thunder and Lightening announcement that nearly all active data will be held in flash, and the days of high-speed disk drives are numbered. EMC needs a flash-only array to complement the server-centric VFCache and future Thunder announcements.
EMC tested the water in this marketplace by introducing a 2.5 inch solid state drive-only version of its traditional VNX array VNX5500-F in October 2011, and hinting it would do the same for the VMAX.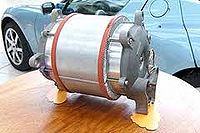 However, putting solid-state drives (SSDs) into a traditional array architecture built for slow mechanical hard drives is similar to putting a Tesla engine into a Fiat Uno; it fits in the engine space, but the performance constraints of the body and transmission will kill any performance gains. In addition, the choice of SLC-only SSD drives were no competition for the MLC drives offered by the other flash-only array vendors. The resultant lack of EMC VNX5500-F sales (0?) and the growing success of flash-only array vendors has Tucci and Gelsinger concluding that new genetic infusion is required and sent them to the new partner marketplace.
Flash-only Array Debutantes
Many flash-only debutantes are looking for invitations, including:
Astute Networks,
Kaminario (using Fusion-io technology),
NexGen Storage (hybrid flash/HDD),
Nimble (hybrid flash/HDD),
Nimbus Data Systems,
Pure Storage,
SolidFire,
Tintri (hybrid flash/HDD),
Texas Memory Systems,
Virident,
Violin Memory.
XtremIO dazzled EMC with its early promise and technology footwork:
It has Israeli/Silicon Valley parentage.
It has deep storage and networking expertise from the founder team (Shuki Bruck, Shahar Frank, Aryeh Mergi, Ehud Rokach and Yaron Segev). Shuki Barock was the founder of Rainfinity, acquired by EMC in 2005.
It is yet another inline global de-duplication technology.
It includes Snapshot capabilities.
It provides InfiniBand support.
It has support for VMware's VAAI interface (a sure way to EMC's heart).
The last but not the least factor that sealed the deal was the price. XtremIO was not asking for the moon (only $400 million).
Conclusions
Flash-only arrays will disrupt the traditional array storage tiers, not only for traditional array usage within the existing IO-constrained systems but even more for future IO-centric systems. Wikibon projects that the marketplace for new generation flash-only/flash hybrid arrays will reach about $13 billion by 2015, as shown in Figure 2. This will represent about 35% of external storage spend, but only 11% of terabytes shipped. As IO Centric computing takes hold, Wikibon believes that the increased business value of IT will drive additional IT revenues in general, and disk storage in particular.
Clearly EMC understands the urgency of competing effectively in the marketplace, and protecting its legacy tier 1 storage array base. EMC needed to make this move, and has correctly made it early. It is likely that other technologies will be needed to flesh out this investment, particularly in the area of object files system and components to support high-performance database.
This acquisition will prompt a similar round of purchases from IBM, HP, NetApp, and possibly CISCO, as the flash-only vendors start to bite into the profitable revenues of the legacy tier 1 high-end storage arrays. There will be a chance for more debutantes to dance.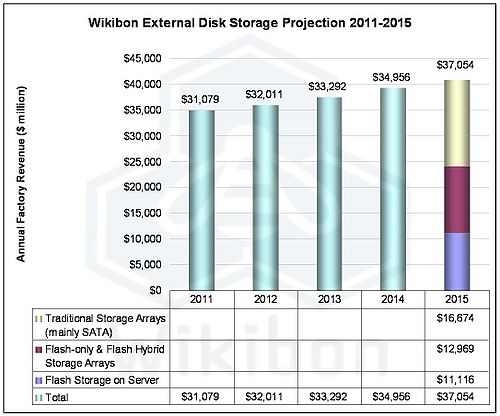 The value of the current traditional tier 1 storage arrays is derived from high performance, very high availability, effective disaster recovery (RPO & RTO), and a tier 1 storage service culture. By 2015, this will be a legacy marketplace, as the flash-only arrays take over this space.
Flash-only arrays have overtaken the performance of traditional arrays and will become more reliable. The traditional DR approach uses replication technologies based on sending large amounts of data over expensive telecommunication lines and will be replaced over time by snapshots, snapshot catalogues (and possibly Axxana-like technologies) to provide much lower cost backup and DR with improved capability. That will leave Tier 1 service culture as a key differentiation criterion for storage array vendors.
Action Item: CTO should be looking ahead to creating a different set of more aggressive storage service definitions for the existing storage tiers that tie more closely into the actual performance and cost requirements of applications:
Legacy storage tier 1 → modern tier 1 (flash-only arrays, snapshot-based backup/DR),
Legacy storage tier 2 → modern tier 2 (hybrid systems, snapshot-based backup/DR),
Legacy storage tier 3 → integrated archive & backup tier based on distributed objects stored on magnetic media with metadata (traditional and semantic indexing) held on an active data layer.
The storage SLAs for these tiers will need to include not just average IO latency and IO rates (IOPS), but also latency variance, maximum latency, and minimum/maximum IOPS. These metrics should be correlated with actual application performance.
Footnotes: