In addition to spending about $1.5B per annum on R&D, EMC has aggressively acquired companies to the average tune of approximately $2B annually for the past four years. This strategy has undeniably given the company the broadest portfolio of storage services in the business today (see Figure 1).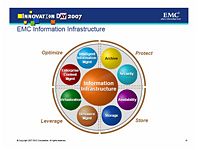 EMC claims to be the only major storage company to build its own products 'from A to Z' (i.e. not relying on R&D/product development partners like LSI or OEM partners like NetApp or Hitachi). The benefit of this approach to customers is a rigorous availability and data protection discipline that includes 5 9's availability and strong data protection software on all product lines. Despite this fundamental approach, EMC's broad portfolio of hardware and software generally relies on different management interfaces and processes. A notable example is the DMX and CX product lines and their respective management suites, ControlCenter and Navisphere.
EMC's virtualization strategy is another example of how the company has acquired in sets of point solutions that largely remain separate. VMware, Rainfinity, Invista and other products in the portfolio are distinct approaches to solving different problems. What EMC is doing is a fine job of making sure these products work, and user indications are consistent that with EMC, they almost always do work and when they don't EMC acts expeditiously to fix problems.
Security with RSA and storage-as-a-service are two initiatives worth watching. With RSA, EMC is driving security capabilities across all products to include risk assessment, access control, ensuring secure infrastructure, protecting data and assuring compliance. While no specific timeframe has been articulated, this is one area where EMC could potentially provide a capability that is truly integrated and auditable across the product set. To the degree that EMC can make information security more effective, easier to prove and affordable --with automated compliance-- it will drive good ROI for customers.
Storage-as-a-service is a new area and to the degree EMC applies a SaaS methodology to existing product lines it's hard to see how integration will be any better than it is today, although it could perhaps be less cumbersome to manage.
Action Item: Despite excellent announcements in SMB and SaaS, customers should not expect EMC to provide true 'out of the box' storage infrastructure, across the board, anytime soon. Rather customers should expect to build integrated storage capabilities from multiple piece parts. In the near-to-mid-term, EMC customers will continue to bear the costs of maintaining excellent skills in storage planning, design, integration and administration.

Footnotes: