Storage Peer Incite: Notes from Wikibon's July 24, 2007 Research Meeting
Moderator: Peter Burris & Analyst: David Floyer
Earlier this month EMC made a major upgrade announcement across nearly its entire product family. While it made many specific upgrades to spot products, the main features of this announcement are the addition of fibre channel to product lines that lacked that and the addition of support for its new 750 GB SATA II drive to its main storage families. While these upgrades will provide real advantages to EMC customers, this remains a tactical announcement, although a large one, that fails to provide industry leadership toward a new, more efficient integrated architecture. Specifically it remains unclear how EMC intends to implement thin provisioning and the announcement does not provide a clear vision of how EMC will move toward making the vision of automated tiered storage, which has been a goal for at least 15 years, into reality. Bert Latamore
EMC's recent storage platform announcement is as broad as any in the history of the storage industry, touching each of the company's major hardware lines, from Rainfinity at the file appliance level to Symmetrix at the high-end. The dual cores of the announcement are the inclusion of new 750GB SATA II drives across the line and introduction of integrated security technology for features like subsystem logging and audit. Missing, however, are any bold moves to lead the storage industry closer to realizing the simpler, cost-effective vision heralded by technologies like virtualization and thin provisioning. The lessons therein say much about EMC, the reality of the storage industry, and the nature of the storage challenges facing users.
What does it say about EMC? It says that despite "big picture" marketing campaigns (e.g., information lifecycle management), EMC is continuing to emphasize being quick to market with "small picture" technology advances that provide real, tactical benefits to customers. This announcement features no "eureka" moment, but it does sport plenty of practical product enhancements that will be compelling, especially to existing EMC customers.
At the high end, still the bellwether of EMC, the Symmetrix line is refreshed with the DMX-4, which gets a faster back-end (matching the front-end 4Gb/s speed), a big bump in the performance of Enginuity (which also benefits DMX-3 users) in RAID 5/6 applications (30% improvement) and SRDF/S (33% improvement), and support for mixing Fibre Channel and the new 750GB SATA II drives. This combination of enhancements raises the ceiling on in-box tiered storage for the DMX-4, at least for Tier 1 and Tier 2 storage requirements. The DMX-4 does not share a common drive bay design with the DMX-3, which means field upgrades from the DMX-3 to the DMX-4 are not an option. For high-end customers, it's a good announcement, but to take full advantage of the new features, users will have to have mastered data classification at the application level. As well, users are going to have to align their organizations to prepare for serious negotiations as they'll be making capacity commitments that will overlap with EMC's stated intent to announce thin provisioning in the first half of 2008.
Similarly, the CLARiiON, Celerra, and Centera lines each have been enhanced to take full advantage of the bigger drives and new subsystem security technologies. Of particular note, CLARiiON gets native iSCSI replication and RAID 6 via a free, non-disruptive upgrade and Celerra gains multi protocol connectivity (iSCSI, FC, and IP), all in a single NS20 or NS40 system, which also now features a competitive set of configuration and installation software functions.
EMC is loudly touting energy efficiency with the announcement, but most – if not all – of the improvements stem from comparing average kWh/GB figures between systems that don't include the lesser performance, higher capacity 750GB SATA II drive. As other suppliers start incorporating new high-capacity drive technology in their platforms, EMC's energy advantage should, in theory dissipate. EMC, however has traditionally been much more adept than competitors at integrating new drive technologies. Nonetheless, for big Symmetrix installations, the operational savings from these drives, today, can easily run into the hundreds of thousands of dollars per quarter.
What does the announcement say about the industry? It says that competition will continue to be highly segmented for the foreseeable future. Although in the midst of a period of significant technology and market discontinuity, no vendor seems willing to bet its business on a top-to-bottom, integrated, comprehensive, storage platform solution (although HDS is flirting with this approach). Virtualization, tiered storage, thin provisioning, storage-as-a-service, content management, green storage, security, etc., will each emerge or be advanced in point product lines from a multitude of vendors, including start-ups. Standards will be advanced, but heterogeneity across storage tiers – often even within a single vendor's portfolio – will remain elusive. Perhaps this will open the doors to radical new approaches to providing integrated hosted storage solutions (e.g., general purpose Google File System), but that fork in the road is still years away.
What does this announcement say about the challenges facing users? It says that users won't be able to buy "out of the box" the storage infrastructure services required by their businesses anytime soon; they'll have to keep building them from multiple piece parts. There are many storage panaceas out there, but all are placebos. This may not be ideal; clearly, information management works best when storage works together. However, it's the reality: For the foreseeable future, storage solutions will remain one part product, one part negotiation, and three parts IT labor (planning, integration, administration).
Action Item: EMC's big announcement ushers in a new period of important negotiations, but no big storage revolutions. EMC loses no ground where it's strong (high-end/midrange) and makes up a bit where it has been behind (IP storage). However, not even improvements in the energy footprint of EMC's portfolio should distract users from the goal of meeting tactical storage needs at the optimal price.
EMC's most recent announcement provides important paths to incremental storage platform benefits for users. However, to optimize these paths, users will have to aggressively execute multiple levels of negotiations over the next 3-6 months, at least. This is particularly critical as EMC has pre-announced thin provisioning which can be used as leverage to negotiate forward intermediate capacity and pricing plans in near-term contracts.
Storage operations, application operations, network operations, finance, legal, and procurement will play important, and complex roles. To achieve optimal results, these groups will have to act as coherently and uniformly as the EMC sales and service teams they'll encounter -- a significant expectation, given the quality and legendary discipline of EMC's sales organization. Treating the negotiations as a project can help, for it forces establishment of clear objectives, roles, haggling guidelines, and a range of acceptable results. As is true with all coordinated activities managed as a project, planning is key. Recruiting the right participation, forging the right set of responsibilities, and driving the behaviors is very difficult without good planning. Multiple sub-teams are likely to be required, one focused on hardware, one on software licensing, and one on maintenance/enhancement services. Given the ongoing growth rates of storage demand, the continuous introduction of new function, and the high switching costs between platform products, ensuring attractive forward-looking maintenance contracts are at least as important as contracts that focus more on acquisition.
Action Item: Sharpen your pencils, storage users, because EMC is riding into town with the best and brightest negotiators in the storage industry. While nothing in this announcement creates a procurement crisis (e.g., buy now or lose your turn), the EMC contracts set up over the next few quarters will shape the space of available storage options for the next few years.
Users of installed DMX's must ask themselves this question and prepare for the answer. Over the next six months, EMC will aggressively incent its customers to acquire the newly announced DMX-4, most likely bundled with other EMC products and services. But for EMC's largest customers, the central financial considerations will start with the DMX. On the surface, the 'why buys' for these customers are easy -- DMX is a safe, reliable and proven platform with a substantial number of hardened processes, procedures and trained experts surrounding the system. But the real answer to the question lies in the financial case and now is the time update the picture.
The reason is that EMC, more than any storage company, recognizes the industry is going through major changes, and for the company to stay on top it has to navigate through a rush of technological advancements from emerging companies, continued pressure from established players, the consumerization of IT, organizational dislocations from legal, audit and records management functions and major disruptions in global sourcing models. In short, EMC will use its substantial skills and heft to keep customers on the bread-and-butter platform.
The negotiations in some accounts have started already and most organizations are unprepared because they don't have an updated financial case at their fingertips. EMC sales teams will, and it behooves users to do some homework before the next round of vendor meetings. Specifically most storage organizations have only a rough idea of storage costs, especially storage administration. A financial model must be built showing the business case of moving from installed DMX's to the DMX-4 and include, at the very least, the following costs and benefits (see example chart below-- Note: not all line items will apply to a DMX-4 conversion):
Costs
Incremental hardware and software costs (out-of-pocket),
Additional ongoing maintenance and support costs, including environmentals,
Cost of project implementation, including services,
Any other expected costs,
Expected loss on books.
Benefits
Reduction in storage costs expected (if any) from improved utilization,
Assumed trade-in value for existing gear,
Gains from reduced storage administrative costs,
The value of any intangibles (e.g. improved security/reduced risk.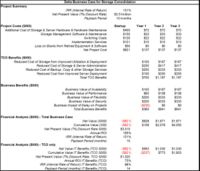 Armed with this information, storage administration must align the negotiating constituents to have a unified strategy, a consistent view of the business case and clear knowledge of when to walk away from the deal that's on the table.
Action Item: EMC customers need to do some financial work ahead of time to determine if the case for DMX-4 is attractive, marginal or negative. Users should only rely on EMC for inputs to this analysis and not for the analytical framework. Performing some simple accounting of basic storage costs will facilitate more successful negotiations as it will allow financial scenarios to be credibly quantified and communicated to key stakeholders, including, executive management, storage admin, IT finance, legal and procurement.
The DMX at heart is a high performance high availability storage controller, allowing users to consolidate storage under a single set of advanced storage administrative functions that have been continually enriched over the years. A wide range of disk drive density options allows a good set of choices between cost and performance. For customer with established processes and procedures for running large, complex, tier-one applications, the DMX platform continues to offer solid performance and functionality.
Recently EMC has been pushing the concept of "tiered storage within a box" on the DMX. The DMX has the ability to have a very large number of drives (2,400) under a single controller, a good set of software to dynamically move storage, and EMC has pushed the environmental savings of consolidating other tiers on the DMX.
There are two key questions to ask in considering this:
"Is it cost effective to dedicate a DMX for tier two or tier three applications?"

The answer is that for most tier three applications and many tier two applications there are alternative solutions from EMC and others at lower hardware and environmental costs; although the storage management functionality is lower on these alternatives, it is adequate.

"Is it cost effective to use marginal costing to fill up a DMX with tier two or three storage?"

The answer is that a good case can be made for some tier two storage, but alternative storage solutions will make more sense for tier three.
Action Item: The DMX is an outstanding platform for tier one and some tier two applications, and users expect to pay higher prices for higher controller performance and functionality. However, users will usually achieve lower storage and environmental costs for separate tier two and tier three storage pools. EMC is well positioned to provide such solutions from its broad range of storage offerings and unless users have sound business reasons to tier within the DMX they should consider alernative platforms both within and outside of EMC's line.
The massive trend in the past seven years toward storage consolidation, both at the high end and midrange of the market, has taken tens of billions of dollars out of the cost of managing infrastructure -- yet there's so much more to be done. With new technologies to improve utilization and reduce energy consumption at the high end, out-of-control exposure from the growth of unstructured content, the need for greater security across the board and pressure for out-of-the-box simplicity in SMB markets, it feels like we've hardly made a dent.
EMC dropped the flag in the race to secure the next round of customer commitments on July 16, 2007. The company is intent on both protecting and mining its installed base while at the same time capitalizing on the hottest trends in the market. This is both an opportunity and a threat for storage vendors. On the one hand, EMC is challenged to position, refresh and help customers integrate its broad product line. The breadth and complexity of its solutions provides opportunities for niche players to gain a foothold in key customer segments. On the other hand, no matter what the customer problem, EMC sales reps seem to have an industry-leading solution in their bags to offer-- this recent announcement continues to incrementally enhance those solutions.
As EMC antagonists like Hitachi and IBM at the high end, and NetApp in file storage, emerging thorns in the side like 3Par and several other newcomers try to find their next $1B by taking it out of EMC's franchise, a serious battle looms on the horizon. In addition, the potential of clustered controllers, grid computing and new approaches to storage (e.g. the Google File System) put further pressure on EMC and will harden the company's resolve. The industry should expect EMC to become even more aggressive as it protects its turf and excercises its growing power in an attempt to freeze out or neutralize efforts by the competition to convince customers to adopt a better mouse trap.
Action Item: In the coming months, at this critical juncture in the storage industry, EMC will become increasing aggressive in trying to keep competitors from poaching on its installed base. Letting EMC lock customers in to an approach that will bias their decision-making over the next five years will bring substantial penalties to competitors. Competitive vendors should not be afraid to trade near-term gross margin for long term customer footprint and consequent economic gains.
The cost of energy and energy consumption per drive has been rising. It now costs between $200 and $450 per year to provide space, power, cooling and maintenance for each disk drive in a storage array. About half of that cost is environmentals. If customers can reduce the number of drives by aggressively consolidating storage from older low density drives onto newer high-density devices, the environmental savings can be very high.
Action Item: Storage managers need to become more aggressive about clearing out old storage arrays, and reduce the cycle time for replacing disk.