When I heard about a file system called GlusterFS, my first question was why does the world need another file system? What turned out to be interesting about Gluster is not the file system, but the business model.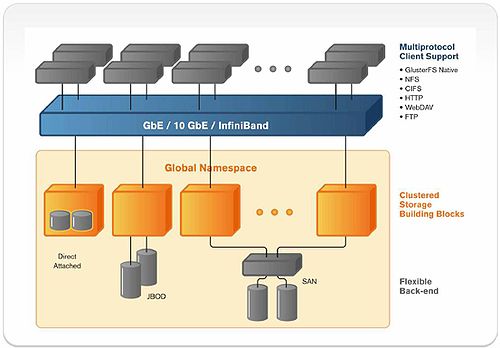 GlusterFS V1 was released in January 2007, and version 2 in May 2009, both under an Open Source GPL license (see figure 1 above). Gluster make money with the distribution and maintenance of a Gluster Storage Solution. The file system is standard and still evolving. The secret sauce is a hashing algorithm that allows clients to calculate where the data required is stored in the global system. This hashing algorithm allows the GlusterFS to store the metadata with the object and avoids the metadata bottlenecks of some global namespace file systems. The other highlight is that the files can be read directly, so that migration to another storage solution (should things not work out) is made easy. Must have been hard for Gluster to give up the lock-in, but very good for users.
Action Item: Storage specialist should look at Gluster when a low-cost but very scalable solution is required to manage an out-of-control unstructured data environment.
Footnotes: