Introduction
I spent most of my career in the CIO's chair, watching the actions of key vendors to help guide my own actions in the organization. After all, a CIO relies heavily on a wide variety of vendors to accomplish business goals. I can't think of a vendor whose actions affect more CIOs than Microsoft.
And that world is about to change. In 2012 and 2013, Microsoft is expected to release new versions of just about every product in the company's portfolio. For users who like to stay current, it will mean major work to plan for multiple upgrades to the latest product versions. However, before pulling the trigger on these upgrades, what's in it for you?
Here's one CIO's view of Microsoft's major products in the 2012/2013 software wave.
Windows 8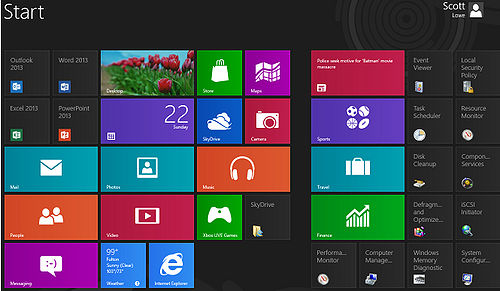 From an enterprise perspective, only one word can summarize how I believe Windows 8 will be received: Uninterested. In fact, it's the only area in which I believe Microsoft will not enjoy significant enterprise success. Here are some reasons that I see Windows 8 a challenge in the enterprise:
Removal of the Start button: I'm an IT pro with 20 years of industry experience under my belt and close to 30 years of experience tinkering with technology at a very deep level. I couldn't figure out how to shut down my computer with Windows 8. Although I eventually figured it out, it's among the most unintuitive processes I've ever come across. That's just one example of the user interface difficulty that will befall enterprises that decide to take the Windows 8 plunge. I know this seems trivial, but as I think about the CIOs that may have to adopt Windows 8, I also consider the user angst that they may experience, and the flood of calls to the help desk.
Touch-first mentality: Microsoft is clearly banking on Windows 8 being a consumer hit, evidenced by the touch-first nature of the product. But I just don't see organizations rushing out to buy a bunch of touch devices. I'm having difficulty seeing the value-add that would come from such a move. If Microsoft offered some sort of choice to the user, it would be different, but right now, touch-first simply doesn't make sense on the desktop. I understand that the consumer market will enjoy touch in a variety of ways — most notably on tablet devices.
Believe it or not, I'm fine with the Metro interface itself. There are a lot of complaints out there about some of the apps — most notably the Mail app — but in the enterprise environment, Mail will be quickly replaced with Outlook or some other corporate mail program, so I don't see it as a negative. However, the shift between the new Start screen and the traditional desktop and the side-by-side traditional and Metro apps is a point of possible confusion.
On a scale of 1 to 5, with 1 being "Don't bother," and 5 being "Jump on this NOW!" I rate Windows 8 a 1 for the office.
Windows Server 2012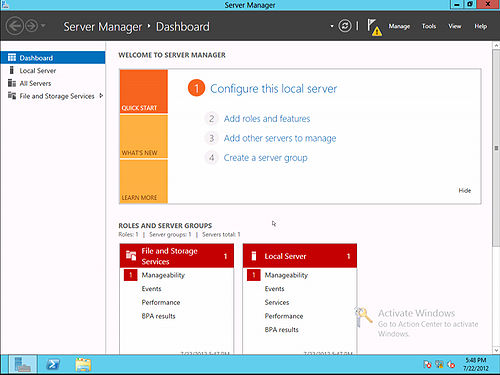 Windows Server 2012 is a different story. This server operating system release is chock full of enterprise goodies that will positively delight CIOs.
Among Windows Server 2012's new business-friendly features:
Hyper-V: The version of Hyper-V coming in Windows Server 2012 boasts hundreds of new and enhanced features over previous versions and brings the hypervisor very close to matching VMware in many ways. One feature is Hyper-V Replica, which is exactly what the name implies, an easy, low cost replication tool for virtual machines. Hyper-V also brings an extensible switch, shared-nothing live migration, live storage migration, a new virtual hard disk format, and a whole lot more. In short, Hyper-V is much more on par with VMware than ever before and is worthy of consideration.
RemoteFX without the need for special hardware: RemoteFX is a protocol used in VDI scenarios to improve the end-user's overall experience. In older versions of Hyper-V, RemoteFX required the use of a physical graphics processing unit. Windows Server 2012 eliminates that, although having one is still supported, vastly simplifying the RemoteFX deployment process.
Dynamic Access Control: For CIOs concerned about the security of information assets, Dynamic Access Control is a method by which information security and audits can be centralized at the domain level and across servers. I'm can't emphasize enough just how powerful Dynamic Access Control is. From a security perspective it is, in my opinion, Windows Server 2012's most important new feature. Learn more about Dynamic Access Control here.
Simplified DirectAccess: Users hate VPNs. When they work, they're ok, but often problems keep users from accomplishing their goals. DirectAccess was first introduced in Windows Server 2008 R2 but was a chore to get implemented due to its reliance on IPv6 and a full PKI deployment. That's changed in Windows Server 2012. This seamless remote connectivity tool now works with IPv4 natively and no longer requires a full PKI implementation. Further, DirectAccess can now live behind a NAT device and, for high availability, supports load balancing. I see DirectAccess as being a powerful reason for CIOs to consider Windows Server 2012, particularly in the SMB space where there might be frustration with lack of remote access options or difficulty using existing services. Read here to learn more about what's new in DirectAccess in Windows Server 2012.
This is just a taste of the improvements that Microsoft has made in Windows Server 2012. On top of these, Microsoft has simplified the product's licensing, reducing it to just two versions targeted at the enterprise and two more targeted at smaller businesses.
This is one upgrade that CIOs should consider due to the major improvements in the product.
On a scale of 1 to 5, with 1 being "Don't bother" and 5 being "Jump on this NOW!" I rate Windows Server 2012 a 5.
Office 2013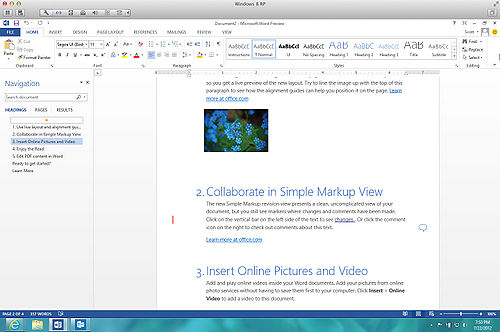 I'm still trying to decide how I feel about Office 2013. Personally, I've installed and have been using the beta myself, and I like it. However, I'm still torn as to whether or not it's compelling enough to supplant Office 2010. It does have some new features that I like:
Click-to-run: Installation is FAST, and users can begin using Office applications even while they're installing thanks to the fact that Office's primary installation method is click-to-run.
Interface: The new interface is somewhat cleaner than the old one. It's not a radical change, but it's just a bit different.
Word improvements: Word 2013 has improvements in document reviewing and overall document finish. It also integrates directly with SkyDrive, enabling much easier sharing than was possible in the past. While easier for users, I foresee SkyDrive as being a potential challenge for CIOs as they work to ensure that information assets remain secure.
Excel improvements: As organizations work to improve their business intelligence systems, I see Excel 2013 as being the most compelling part of the Office 2013 suite. Excel 2013 includes a feature called Recommended Pivot Table, which automatically summarizes data into multiple views so users can choose the one that best suits their needs. Flash Fill is another new feature that enables you to more quickly accomplish your goals. Excel learns patterns based on what you're doing and auto-completes the remaining data, with no formulas or macros required. Excel 2013 also includes multiple charting enhancements, making it easier for you to tell your data-driven story.
PowerPoint 2013: First of all, PowerPoint has finally gone widescreen, and other new PowerPoint 2013 features tweak the overall user experience. Again, there is nothing earth-shattering here. It does add alignment guides that make it easier to align separate visual elements, and users can now merge shapes to create new ones. In presentation mode, there is also a new Zoom feature that enables a presenter to better highlight a slide element. Further, presenters can more easily present slides out of order thanks to a new navigation grid.
Outlook 2013: Visually, I believe that Outlook 2013's change is the most visually different of the products as what has become known as the "Outlook-style interface" seems to have gone away to some extent. The bars at the lower left part of the screen that allow users to navigate between mail, calendar, contacts, and tasks are moved to a horizontal menu below the mail window.
Given the major changes in other Microsoft products, I see a move to Office 2013 as a low priority for most CIOs, although end-users who use Excel heavily for data manipulation may want to give it a second look. One additional feature: You can now edit PDF documents in Word. For organizations looking for that ability, Office 2013 should certainly be considered.
On a scale of 1 to 5, with 1 being "Don't bother" and 5 being "Jump on this NOW!" I rate Office 2013 a 3.
System Center 2012
As you may know, System Center is now a single product comprised of what used to be separate products, including:
App Controller,
Operations Manager,
Orchestrator,
Service Manager,
Virtual Machine Manager,
Data Protection Manager,
Endpoint Protection,
Configuration Manager.
With the new bundling of the System Center product line, Microsoft is clearly hoping that organizations will choose it for all of their private cloud management needs. I've been doing my own testing of the Configuration Manager and Operations Manager components, and I'm quite impressed with the steps that Microsoft has taken to simplify these products. The improvements in Configuration Manager alone are worth the price of an upgrade. In the 2012 edition, Microsoft has normalized the administrative interface across all of the System Center products. Further, building a Configuration Manager environment is much simpler than it used to be, thanks to the fact that there are now very few issues that force the creation of separate sites. In older versions of the product, administrators had to install completely separate administrative sites in order to accomplish simple goals, such as limiting security to a specific set of administrators or establish custom client settings.
For CIOs in organizations using any of the System Center components, Microsoft is granting full System Center 2012 Standard licenses if you own any current server product from previous versions of System Center, but only if you have active Software Assurance. Here is more information about the licensing changes in System Center 2012.
CIOs will need to carefully consider the need to move to System Center 2012, particularly as it is now a huge suite. In making this change, I believe Microsoft may have locked itself out of some environments that prefer to have a choice. By forcing organizations to buy the full bundle, these organizations may see themselves paying for products that they simply won't use.
If you are a CIO in a Microsoft-centric environment or you're planning to give Hyper-V a look, I recommend a look at System Center 2012. Even the products that used to be considered less-than-enterprise capable, such as Data Protection Manager, are now worthy of consideration in many instances.
On a scale of 1 to 5, with 1 being "Don't bother" and 5 being "Jump on this NOW!" I rate System Center 2012 a 3.
SharePoint 2013
SharePoint 2013 is the upcoming latest version of what I consider to be one of Microsoft's crown jewels. When you think of an application that can do, well, just about anything you want it to, I can't think of anything quite as versatile as SharePoint. From an information sharing hub to a workflow-based business process enhancer to an application framework, SharePoint is a chameleon.
From what I've seen so far, SharePoint 2013 is certainly evolutionary rather than revolutionary, but that's not necessarily a bad thing. Upgrading SharePoint can be a tough task made even more difficult when the product has major architectural changes.
One new and unsurprising feature in SharePoint 2013 is SkyDrive Pro. There is some uncertainty around exactly what SkyDrive Pro does, but Paul Thurrott has worked through the morass and provided some details about this new service.
You can also read through Microsoft's own information regarding what's new in SharePoint 2013.
I'm on the fence on this one. For new deployments, I would recommend always using the latest version, but for an upgrade, I don't see SharePoint 2013 as a must-have quite yet for CIOs already running SharePoint 2010. For those running SharePoint 2007 or below, SharePoint 2013 does provide enough new features to make an upgrade worthwhile.
On a scale of 1 to 5, with 1 being "Don't bother" and 5 being "Jump on this NOW!" I rate SharePoint 2013 a 3.5.
Exchange 2013

The final product I'll be looking at here is Exchange, which has also undergone significant change since the 2010 edition. First, Microsoft has simplified the deployment process by eliminating some formal roles. This version has only two roles, Client Access server and Mailbox server.
For CIOs, the most interesting new and improved features will probably be in-place hold and in-place discovery. The two sections below are from Microsoft's What's New in Exchange 2013 Preview page and outline these features.
In-Place Hold
In-Place Hold allows you to:
Preserve the results of the query (query-based hold), which allows for scoped immutability across mailboxes.
Place a time-based hold to meet retention requirements (for example, retain all items in a mailbox for seven years, a scenario that required the use of Single Item Recovery/Deleted Item Retention in Exchange 2010).
Place a mailbox on indefinite hold (known as a litigation hold in Exchange 2010).
In-Place eDiscovery
In-Place eDiscovery allows you to search and preserve data across multiple data repositories. Exchange 2013 Preview exposes the ability to perform In-Place eDiscovery search across Exchange, SharePoint 2013 Preview, and Lync 2013 Preview. You can use the eDiscovery Center in SharePoint 2013 Preview to perform In-Place eDiscovery search and hold. Query-based In-Place Hold allows you to preserve the results of the query, which allows for scoped immutability across mailboxes. If SharePoint 2013 Preview isn't available, a subset of the discovery functionality is available in the Exchange Administration Center (EAC). In addition, Discovery Managers can export mailbox content to a .pst file from the SharePoint 2013 Preview eDiscovery Console. Mailbox export request cmdlets are no longer required to export a mailbox to a .pst file.
Another new feature in Exchange 2013 is an offline access mode for Outlook Web Access, which allows users to read and respond to messages even when disconnected using a supported browser.
Microsoft also seems to be refocusing on supporting public folders, which is surprising given that the company has long said that public folders would eventually be deprecated and removed from Exchange. In Exchange 2013, the entire public folder system has been revamped, so it looks like this popular tool is here to stay for a bit longer.
By the way, Exchange 2013 finally cuts the Exchange 2003 cord; Exchange 2013 cannot coexist with Exchange 2003.
Here's an article that does a nice job summarizing the changes that are coming to Exchange 2013.
Given the ediscovery and hold capabilities found in Exchange 2013 and its renewed support for public folders, CIOs running Exchange 2007 or earlier should consider a move to Exchange 2013. For those running Exchange 2010, I wouldn't make an upgrade a priority.
On a scale of 1 to 5, with 1 being "Don't bother" and 5 being "Jump on this NOW!" I rate Exchange 2013 a 2 for Exchange 2010 shops and a 4 for shops running earlier versions of the product.
Action Item: The 2013/2013 Microsoft software wave is going to mean big decisions have to be made by CIOs about whether or not to stay on the current software versions or move to the newest releases. Although every product being released carries a number of enhancements, not every product carries enhancements that will be of interest to CIOs attempting to meet critical business goals.
Footnotes: