In today's technology environment, we're discussing the benefits of cloud computing, virtualization and the need for IT efficiency. How quickly we have come to where we are now and it's easy to take the power of the standard computer for granted.
A look back at the computer's development, however, restores a sense of wonder for the remarkable men and women who blazed a trail from the Industrial Revolution to the Information Age. And for what they created – astonishing, still-vital feats of engineering wizardry we benefit from every day.
Here's a look back at some of the key developments from decades past.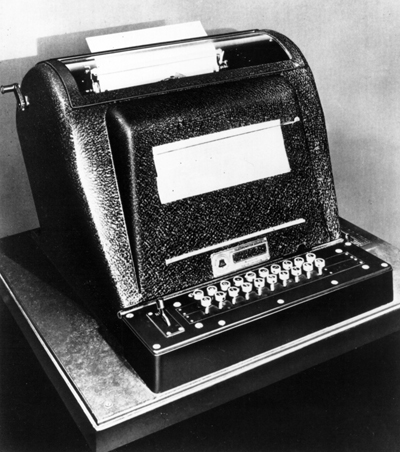 Image courtesy of Computer History Museum
1940 – The Complex Number Calculator (United States)
In 1937, Bell Lab's George Stibitz created a relay-based calculator, the Model K (named after the kitchen table on which he built it). Stibitz then led a team that produced the Complex Number Calculator (CNC), capable of performing calculations on complex numbers. In 1940, he appeared at an American Mathematical Society conference at Dartmouth College and performed calculations remotely on the CNC in New York City – the first demonstration of remote access computing.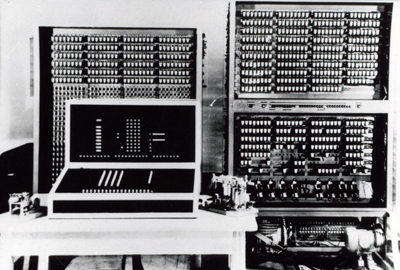 Image courtesy of Computer History Museum
1941 – The Z3 (Germany)
Unaware of developments in the rest of the world, Konrad Zuse developed the Z3, the first fully automatic, programmable computing device. Using 2300 relays and a 22-bit word length, it's considered one of the world's first computers. The original Z3 was destroyed in an Allied bombing raid on Berlin in 1943. Zune supervised construction of a replica in the 1960s, which is on display at the Deutsches Museum in Munich.
1941 – The Bombe (Great Britain)
The first Bombe is completed, enabling Allied forces to decrypt Nazi communications in World War II. It was named after and inspired by the Polish "Bomba," which exploited soft spots in the German encryption process. To counter worries that the Germans might address these deficiencies, British computer pioneer Alan Turing designed the Bombe using a technique known as cribbing. Cribbing assumes that a message will contain some text that analysts will be able to guess at. With important contributions from other scientists, the Bombes were crucial to the Allied intelligence gathering processes. In 2009, a successful, 13-year effort to rebuild a working Bombe was rewarded with an Engineering Heritage Award.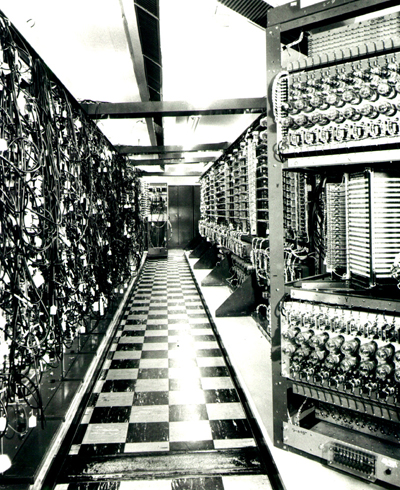 Image courtesy of Computer History Museum
1943 – Project Whirlwind (United States)
The Whirlwind computer began in 1943 at MIT as a flight simulator for the US Navy's bombing crew training. The developers rejected the analog computer prototype because of its inaccuracies, but moved to a digital computer after seeing a demonstration of the ENIAC. While the Navy was no longer interested in the project by the time it finished in 1951, the Air Force was. It led to the Navy's Semi Automatic Ground Environment (SAGE) system. Whirlwind's technology led indirectly to business computers and minicomputers in the 1960s. It also led to the founding of Digital Equipment Corporation (DEC) by Ken Olsen, who rescued the original Whirlwind from the scrap heap.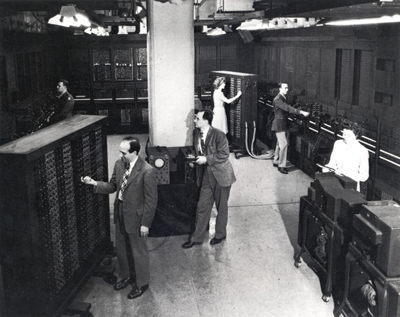 Image courtesy of Computer History Museum
1946 – Electronic Numeric Integrator and Computer (ENIAC) (United States)
Originally funded by the US Army during World War II, ENIAC was originally designed to calculate artillery-firing positions for the US Army's Ballistic Research Laboratory. Instead, it was first used by designers John Mauchly and J. Presper Eckert in calculations for the hydrogen bomb program. The ENIAC was 1,000 times faster than contemporary machines — a leap in computing power that has never been duplicated. Upon its public unveiling in 1946, it was dubbed the "Giant Brain." Today it's considered the first general-purpose computer.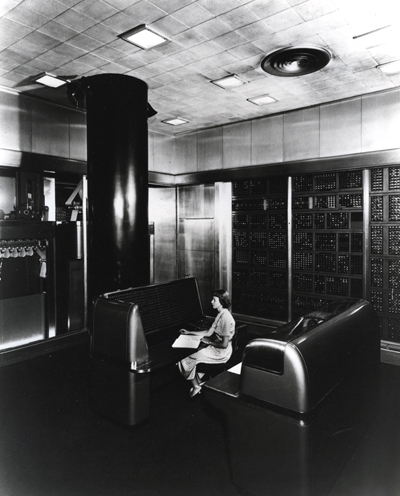 Image courtesy of Computer History Museum
1948 – Selective Sequence Electronic Calculator (United States)
IBM's SSEC was the first operating computer to use both electronic computation and stored instructions — and was the first computer to run stored programs (although it wasn't fully electronic). Measuring 25 feet by 40 feet, the SSEC was capable of 50 multiplications per minute. In 1948 it was located on the ground floor of IBM's main office building in New York City, in full view of the public. It remained there until 1952, when it was taken apart and replaced by an IBM 701 computer. NASA used moon-position tables based on those generated by the SSEC for the Apollo 11 moon landing mission.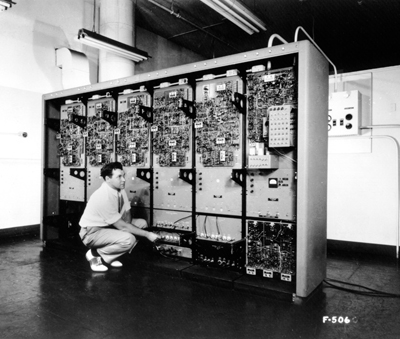 Image courtesy of Computer History Museum
1951 – Lyons Electronic Office (Great Britain)
The LEO was the first computer used for commercial business applications, as well as Great Britain's first commercial computer. It was created by the Lyons Tea Co. in 1951 to address clerical problems with scheduling the daily production and delivery of cakes to Lyons tea shops. In 1956, Lyons began using the LEO to calculate payroll for Ford UK and other companies — one of the first instances of outsourcing. Lyons eventually began building data processing computers, later joining the English Electric Company (EELM) and then International Computers Limited (ICL).
1958 – Semi-Automatic Ground Environment (United States)
The SAGE was developed by NORAD to track and intercept enemy aircraft from the 1950s to the 1980s. It was the first large-scale computer network communications network, and is still considered one of the most advanced such systems ever developed. It led to innovations in real-time computing, interactive computing, and online systems. Working as a contractor on SAGE, IBM developed the AN/FSQ-7 computer, which was a key factor in its rise in the computer industry.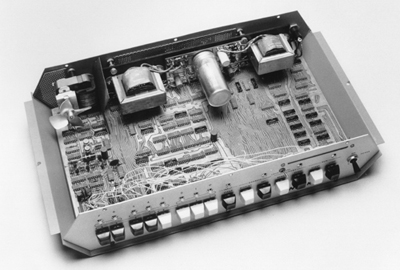 Image courtesy of Computer History Museum
1971 – Kenbak-1 (United States)
The Kenbak-1 is considered to be the first personal computer (although the Datapoint 2200 may have been invented or sold first, precise dates don't exist). Invented by John Blankenbaker of the Kenbak Corp., it used off-the-shelf components, had a 256-byte memory, and sold for $750. To program it, users entered pure machine code with switches and buttons and received output through a series of lights. The company folded in 1973 after selling 40 units.
1974 – XEROX Alto (United States)
Designed at the XEROX Palo Alto Research Center (PARC), the Alto featured a number of firsts. It was the first computer to use the metaphor of a desktop, the first computer to use a GUI, and the first to use a mouse. It featured an email tool (the Laurel), the first WYSIWIG tools (Bravo and Gypsy), and an early paint program (Markup), among other innovations. While it was never sold commercially, XEROX donated a number of them to universities, and numerous features were incorporated into PCs and workstations. It was also a major influence on the Macintosh.
1981 – Osborne 1 – The First Laptop Computer
Osborne 1 is usually considered to be the first true portable computer. Adam Osborne, an ex-book publisher founded Osborne Computer and produced the Osborne 1 in 1981.  It weighed 24 pounds and cost $1795. The Osborne 1 came with a five-inch screen, modem port, two 5 1/4 floppy drives, a large collection of bundled software programs, and a battery pack. Unfortunately, the short-lived computer was never successful, giving way to developments from Epson, IBM and Radio Shack over the next few years.
1984 – Macintosh (United States)
Based on Apple's commercially unsuccessful Lisa (the first personal computer with a GUI), the Macintosh was the first successful computer to use a mouse and a GUI rather than a command-line interface. Introduced by one of the most famous ads in television history (which only aired once – during Super Bowl XVIII), the original Mac sold for $2,500 (as opposed to Lisa's $1,0000 price tag). The Macintosh 128k's look and feel were heavily influenced by XEROX PARC's groundbreaking GUI technology. It featured two applications: MacPaint and MacWrite, which used WYSIWIG word processing. While Steve Jobs led the Macintosh project, he resigned from Apple in 1985 after losing a power struggle with CEO John Sculley.
1988 – NeXT (United States)
After leaving Apple, Jobs founded NeXT. Introduced in 1988, its first computer was a commercial failure but was hailed for its innovative and influential NeXTSTEP object-oriented OS and development environment. It was also the first personal computer to include a drive for an optical storage disk and voice recognition technology. NeXT released NeXTSTEP as the OpenStep programming environment, developing OPENSTEP as its own Openstep implementation. It also developed WebObjects, one of the first enterprise web application frameworks. Apple bought NeXT in December 1996, using OPENSTEP as the basis for much of the current Mac OS X system.
1991 – Macintosh PowerBook
In 1991, Apple introduced the original PowerBook, which came in three models: PowerBook 100, PowerBook 140, and PowerBook 170.  The PowerBook used an internal SCSI harddrive and was able to read and write standard MS-DOS 1.44MB floppy disks.  As the first really useful portable Macintosh computers, the PowerBooks were a great success, selling over 100,000 in the first three months alone, and sales in excess of $1 billion in the first year.  In February 2005, Mobile PC magazine named the PowerBook 100 its choice as the "#1 gadget of all time."
References and information courtesy of The Computer History Museum, The Obsolete Technology Website and About.com