It's Amazon's world…we just live in it.
Amazon's aggressive push into the traditional enterprise space will place pressure on CIOs and enterprise IT suppliers alike. To release this pressure, CIOs must treat AWS as another tool in their bag, embrace the public cloud generally and help their organizations understand the right strategic fit for public cloud services; balancing convenience with compliance. Meanwhile, technology suppliers must differentiate by focusing on best-of-breed services, industry-specific capabilities and delivering business value deep within regions around the globe.
We've been covering Amazon's moves in the enterprise very closely with an emphasis on what it means for CIOs and enterprise ecosystem suppliers.  The focus of this piece is how EMC is partnering with Capgemini in Brazil. We see this as a clear example of how two significant players – one in services and one in infrastructure – are partnering to evolve their business models responding to customer demands to reduce CAPEX and align IT spending to consumption; while at the same time creating competitive differentiation.
What did EMC and Capgemini announce?
EMC and Capgemini today announced an extension of their strategic partnership with a focus on enabling cloud-based services in the fast growing region of Brazil.
This is a classic case of a services company with deep customer relationships and industry expertise partnering with a leading infrastructure player to drive more business.
The companies are providing joint offerings in core infrastructure such as:
Storage-as-a-Service
Backup-as-a-Service
Archive-as-a-Service
As well, they're delivering specific SaaS offerings to include:
SAP-as-a-Service
Testing-as-a-Service
ECM-as-a-Service
Capgemini and EMC are offering these services across a spectrum from private to hybrid to public cloud.
The messaging from Capgemini and EMC caught our attention here at Wikibon. It touches on IT transformation and delivering business value, two concepts that will resonate with CIOs. While the phraseology of the release can clearly be tied to customer demand, if one reads between the lines the words essentially translate Amazon cloud language into "Enterprise speak" while extending Amazon's value proposition.
For example:
"The As-a-Service solutions will be aimed at delivering more agile and cost-efficient cloud IT solutions, designed to meet customers' unique business challenges, requirements and service level agreements for specific vertical market segments…" – Translation: We'll replicate the benefits of public cloud but we'll also go belly-to-belly with our customers, understand their needs and share the risk.
"…decreasing the need for capital expenditures and increasing the alignment of IT costs to consumption." – aka "The Elastic Cloud"
"…for IT organizations seeking to gain business agility without sacrificing trust and control in their cloud computing." – Translation – "unlike the other guys…you can trust our cloud offerings"
In an important nuance, we spoke with Capgemini executives about this announcement and they told us Amazon is a great partner and has been for years.  They fully embrace Amazon Web Services and utilize AWS in the right use cases (mostly in SAP test and dev).
In our view, this is precisely how traditional IT organizations should view AWS, not as "put everything on Amazon or you're wasting the company's money" but rather as another option that can be used to improve IT when the fit is right.
Why Brazil?
Capgemini and EMC have a long history of working together and both companies have a strong presence in the region. The cloud services market in Brazil is growing at a compound annual rate in excess of 70% and is expected to surpass $1B within the next 24-36 months.
The choice of Brazil is significant for three reasons: 1) It's the largest opportunity in Latin America (about ½ the region's TAM) and is growing very quickly; 2) It represents mid-to-long-term pipeline building with the 2014 World Cup and the 2016 Olympics in Brazil and 3) It's a way for each company to focus and differentiate from it's competition.
Specifically, Capgemini competes with industry service giants such as Accenture and Deloitte. These two firms are the gold standard in global services with IBM and PwC joining the whale pod. Each of these firms has nearly 200,000 employees or more. What makes a great consulting firm/SI? Depth, industry expertise, thought leadership, masses of consultants that have solved complex industry problems with partners that are highly respected across many industries.
Capgemini is probably the leading consulting firm in the next tier of suppliers. With about half the headcount of Accenture, it competes both locally (super strong in France for example) and with focus on selected industries. Rather than being all things to all people it competes on the basis of credibility and focus. Think of Capgemini as a smaller consultant with big resources that, unlike some of the big guys, doesn't have a reputation for "bullying" customers.
Capgemini has had a presence in Brazil since the 1970's and in 2010 acquired the majority stake in CPM Braxis, a $1B+ firm that leads the Brazilian IT services market. The acquisition supercharged Capgemini's presence in Brazil and puts it in a strong strategic position to compete with the big guys. For example, while Accenture's worldwide headcount outnumbers Capgemini's  by 2X, in Brazil, we estimate Capgemini has a far larger workforce – probably 3-4 times greater than Accenture's.
In summary, combine regional TAM, high growth,  a sophisticated banking sector, strong local presence, little or no solution conflict and you have a winner.
What's the Amazon Angle?
As stated, Amazon is going after the traditional enterprise space with a strong message focused on moving IT infrastructure to AWS—denigrating private clouds as faux clouds and hybrid clouds as illusory. Firms like Capgemini and EMC are pushing "Everything-as-a-Service" as a lead strategy for cloud transformation. This is significant in that Wikibon data shows only 14% of organizations surveyed have no IT transformation plans underway.
Importantly, in our 2012 IT Transformation Survey we note that the #1 challenge cited by IT practitioners in terms of moving to IT-as-a-Service is "shifting the IT consumption model from technology to service for the business." Swiping a credit card and spinning up AWS server and S3 instances is easy, but it doesn't solve this fundamental transformation problem.  The answer is an end-to-end capability that ties in the business process, the application portfolio, the infrastructure and the associated services around these interrelated corporate assets. For most mid-to-large-scale companies this is a complicated situation. Notice the challenges cited in this survey – the big ones are business model and process related, the exact types of problems a Capgemini is programmed to solve: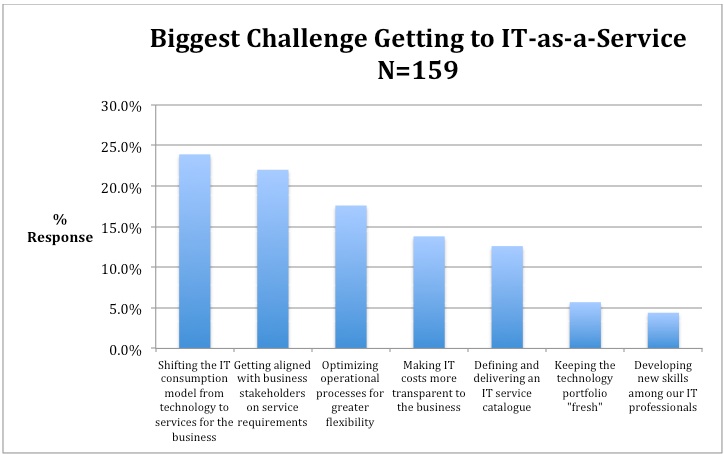 So the Amazon angle is as follows:
Amazon can't architect this type of transformation and doesn't want to. It wants to provide services at scale and let its partners do the heavy lifting.
Amazon is marketing to the world that traditional enterprise IT models are dead. In a large respect, they're right – cloud generally and AWS specifically, along with Google and Facebook, have permanently changed our view of the IT world.
For smaller companies, funded startups and test/dev use cases, AWS or similar services are often the answer to simplify IT and

perhaps

lower costs.
But here's the rub– For more complicated application portfolios the answer is not to just shift everything into the public cloud. It's way too expensive (that's right). Rather organizations need outside help to understand how to address the unique problems they face and develop industry-specific and/or best-of-breed

solutions

that drive tangible business value. Sometimes Capgemini will use AWS but for the really hairy and high value stuff it won't. Why? Because it very often won't meet the needs of the customer.
The bottom line is Amazon has become a critical player in the enterprise infrastructure game and IT organizations need to understand where it fits and how to add value on top of such services by focusing on compliance, security, industry-specific expertise and business process flow.
By embracing this mindset and treating public cloud offerings as an opportunity, CIOs will be able to credibly argue for the right fit of such solutions while at the same time looking out for the corporate "family jewels."
Here's a Breaking Analysis video on this topic with SiliconAngle's Kristen Feledy from the Morning News Desk: